Last Updated on May 8, 2023
A pedestal sump pump is essential for safeguarding their home against water damage. Proactive steps like this can ensure your living space remains secure, protecting you and your family from flood or groundwater runoff risks.
Opt for the best pedestal sump pumps with various outstanding features like high horsepower, minimal noise, proper discharge, and durable materials. They also have adjustable float switches, high gallons per hour (GPH) capacities, and lengthy power cords that can significantly benefit you.
Their compact design and ease of installation make them a popular choice among homeowners, and the minimal maintenance they necessitate adds to their appeal. We've scoured the market and hand-selected these five standout sump pumps that offer reliability you can depend on.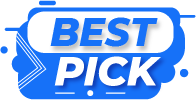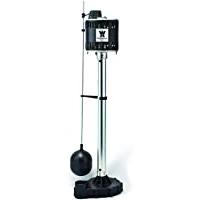 Water Ace Sump Pump Float Switch
High Durable and Powerful Pedestal Pump
● Horsepower: 1/3 HP
● Discharge: 1-1/2″ FNPT
● Voltage: 115 Volts
● Max Flow (GPH) at 0 ft: 3480
● Base: Cast Iron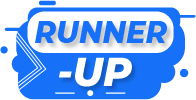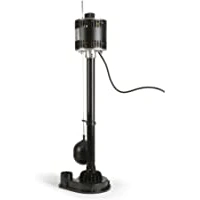 ECO FLO Pedestal Pump
High Flow Rated Pedestal Sump Pump
● Horsepower: 1/3 HP
● Discharge: 1-1/2″ FNPT
● Voltage: 115 volt
● Flow Rate: 3600 GPH
● Base: Thermoplastic
Top 5 Reviews on The Best Pedestal Sump Pumps
Keep your home's foundation safeguarded from water damage with a reliable pedestal sump pump. The top five pedestal pumps we're reviewing are all packed with features and deliver reliable performance.
1. Water Ace Sump Pump Float Switch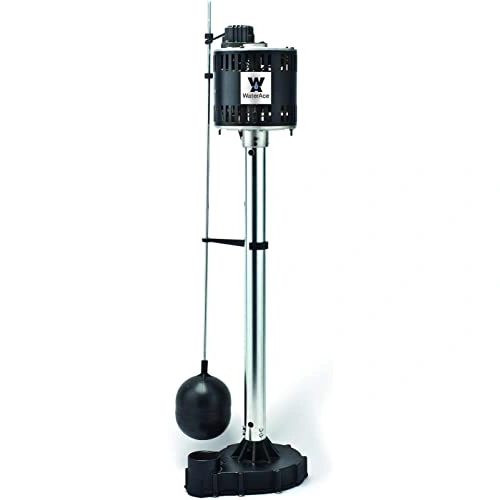 For homeowners seeking reliable basement water elimination and protection against future flooding, the WaterAce sump pump is an ideal solution. This innovative device features key attributes, such as quiet operation, easy installation, and high overall performance, making it a trustworthy addition to any home.
1: Silent Efficiency for Unobtrusive Water Removal
One of the most notable features of the Water Ace sump pump float switch is its quiet operation. This ensures that homeowners can enjoy a peaceful living environment without disrupting a noisy pump.
It removes water quickly and efficiently, so any excess water in the basement can be promptly eliminated. It prevents further damage to structural elements and precious belongings.
2: Easy Installation and Replacement for Your Existing Pump
The Water Ace sump pump is designed to integrate your existing pump system seamlessly. Its compatibility with standard sump pumps allows for an easy replacement, minimizing downtime and effort during installation.
The built-in metal pipe for the pedestal ensures the pump is securely installed. It reduces the risk of wobbling or malfunctioning.
3: Robust Construction for Durability and Reliability
Built with a cast iron construction, the WaterAce sump pump can withstand frequent usage and harsh conditions in a basement environment. The heavy-duty cast iron base and zinc-plated column material add to its durability.
It makes it a long-lasting investment that homeowners can depend on in need. The pump also features a top-mounted adjustable float switch for easy operation and customization.
4: High Performance for Basements and Flood Prone Areas
The powerful 1/3 HP, 115-volt capacitor motor designed for basement sumps can pump 3480 GPH at 0 ft, effectively draining any excess water. It can also pump solids up to 3/8 inches, ensuring that even small debris can be safely managed.
With a discharge size of 1-1/2 inch FNPT, the Water Ace pump is optimally suited for efficient water removal in a variety of settings.
5: Environmentally Friendly Design for Sustainable Water Management
The pedestal sump pump is also designed with sustainability in mind. Its energy-efficient design reduces electricity consumption and helps to conserve natural resources.
The pump's capacity to handle 3/8-inch solids makes it an eco-friendly choice, as it minimizes the release of pollutants into the environment.
Positive Points:
Top-mounted adjustable float switch
Suitable for basement sumps
Capable of pumping 3/8 inch solids
Easy replacement for existing pump
Metal pipe for the pedestal
Effectively removes water quickly
Quiet operation
Well-built with cast iron construction
Negative Points:
Not suitable for heavy sediment management
May require a different size threaded adapter
---
2. Superior Pump 1/3 HP Pedestal Sump Pump Model 92333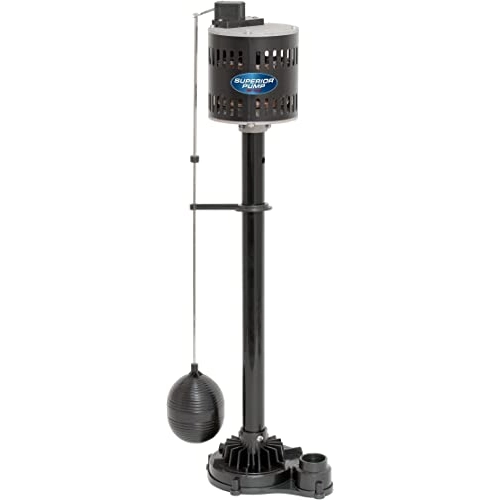 Prevent flooding and wet basements with Superior Pump's powerful 1/3 HP Pedestal Sump Pump. Proven to tackle even the toughest jobs, you can sleep soundly knowing your home or business is protected from excess water.
1. Unmatched Performance with 1/3 HP Horsepower
Experience unparalleled performance from the Superior Pump 92333 with metal switch arm. It is equipped with a formidable 1/3 horsepower motor that effortlessly conquers the most challenging water removal tasks.
This dynamic pedestal pump delivers exceptional power and demonstrates impressive efficiency with its 1-1/4 inch NPT discharge. It ensures rapid and effective water extraction with minimal noise during operation.
2. Durable and Robust Thermoplastic Construction
Constructed with cast iron and thermoplastic material, the Superior Pump 92333 was built to last. Its durable thermoplastic construction makes it sturdy and resistant to corrosion.
The stainless steel impeller and non-corrosive steel drive shaft ensure reliable operation. Its thermoplastic and corrosion resistant stainless steel construction also ensures its long-lasting performance and reliable operation.
3. Innovative and Efficient Design Features
Superior Pump has implemented a unique small-sensor technology in the 92333 model instead of the traditional float switch. This innovation allows for a more accurate and efficient method of turning the pump ON and OFF.
Its top intake design also filters out debris, preventing clogging issues and ensuring hassle-free performance.
4. Effortless Installation and Maintenance
Replacing your old sump pump with the Superior Pump 1/3 hp pedestal sump pump model 92333 is a breeze. It is perfectly designed as an exact-fit replacement, ensuring easy installation.
The pump's dependability and reliable operation mean you won't be bogged down with troubleshooting or maintenance issues. In addition, the automatic switch with adjustable switch-on height adds automatic operation and ease of use.
5. A Perfect Fit for a Wide Range of Applications:
It is designed to handle multiple sources of standing water. The super powerful pump is perfect for removing water from various locations, such as furnace condensates, dehumidifiers, AC units, storm drains and rainwater in crawl spaces.
It can also handle excessive rainwater in basements or move up to 3,000 gallons of water per hour, making it ideal for use in farmhouses with multiple sump pumps.
Pros:
Moves up to 3,000 GPH
Durable thermoplastic construction
Non-corrosive steel drive shaft
Adjustable switch-on height
Top intake filters out debris
Effective at handling heavy rainwater
No troubleshooting or clogging issues
Con:
A little noisy during draining
---
3. Flotec Sump Pump Pedestal Fppm3600d
1/3 Horsepower
1-1/4″ NPT discharge
Thermoplastic material
Runs on 100 Volts
Weigh 11.3 Pounds
Say goodbye to your flooding woes. Introducing the pedestal sump pump that ensures dependable and steadfast performance, even during the toughest conditions. Find out why this submersible sump pump is a must-have in every home.
1. High-Efficiency Operation with 1/3 HP Horsepower
The Flotec Sump Pump Pedestal FPPM3600D boasts a robust 1/3 HP motor that delivers efficient and powerful water pumping performance. With an impressive 1-1/4″ NPT discharge, say goodbye to flooding concerns during heavy downpours from your basements, crawlspaces, or other flood-prone areas.
2. Innovative Thermoplastic Construction Promises Longevity
Lightweight yet highly robust, the innovative thermoplastic construction of the Flotec Sump Pump ensures that it remains durable and long-lasting. Thermoplastic materials resist corrosion and wear and offer extended lifespans and standout performance, even under the most demanding conditions.
3. Designed for Consistent Use in Wet Conditions
The submersible sump pump can handle being submerged for extended periods without compromising its performance. It is designed to endure constant use in wet conditions. This reliable sump pump offers you peace of mind, ensuring that your home is well-protected against flooding and severe weather damage.
4. Effortless Installation and User-Friendly Features
Installing the Flotec Sump Pump is an absolute breeze, thanks to its user-friendly pre-assembled components and six-foot extension cord. Running on 100 volts and weighing just 11.3 pounds, this sump pump is tailor-made for minimum hassle and maximum functionality.
4. Your Trustworthy Companion in Tough Weather Conditions
Come heavy rains, hail, or shine, but the Flotec Pedestal Sump Pump stands firm as your reliable partner in weathering the storm. Efficiently pumping large volumes of water, this basement sump pump ensures that your home is safe from floods, water damage, or other emergencies caused by extreme weather.
Positive Points:
1-1/4″ NPT discharge
Runs on 100 Volts
Has a six-foot extension cord
Efficiently pumps large volumes of water
Can withstand severe weather conditions
Extremely durable and long-lasting
Easy to install and use
Prevents debris from entering the pump
Allows for smaller sump basins
Negative Points:
Can get loud and annoying over time
---
4. ECO FLO Pedestal Pump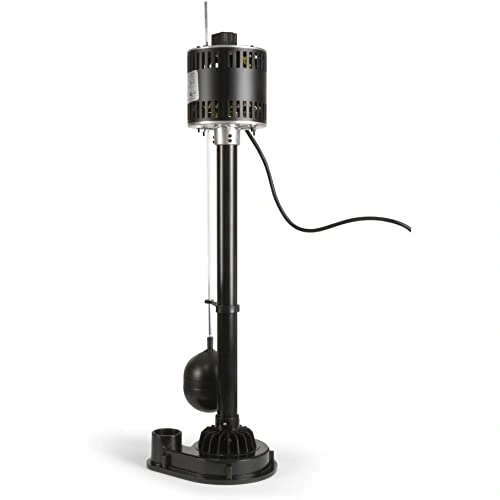 When hunting for a resilient and effective solution for all your water pumping requirements, the Pedestal Pump from ECO FLO is unquestionably the ideal choice. This exceptional pump guarantees to not only meet but even surpass your expectations in terms of performance.
1. High-Capacity Flow for Demanding Applications
The ECO FLO Pedestal Pump is designed to make even the most difficult water removal jobs a breeze. Powered by an impressive 1/3 horsepower motor, it can deliver up to 3600 GPH at 0 ft and tackle demanding tasks such as basement flooding or agricultural irrigation with ease.
2. Built to be Durable with Thermoplastic Construction
Forgoing traditional metal materials, the ECO FLO Pedestal Pump is made of advanced thermoplastic materials. These materials provide superior durability and ensure the pump is resistant to corrosion and damage from harsh water conditions.
This cutting-edge construction means you can trust your pump to provide reliable performance for years to come.
3. Easy Installation and Setup with User Manual
Forget the hassle of complicated installations with the pedestal pump, which simplifies the process with an easy-to-understand user manual. Detailed instructions guide you every step of the way, ensuring a smooth and efficient setup. The 1-1/2″ FNPT discharge and 115-volt power supply make connecting the pump a breeze.
4. Adjustable Float Switch for Customized Control
To provide maximum flexibility, the Pedestal Pump features an adjustable vertical float switch for full control over the pump's activation and deactivation levels. This customization ensures that the pump works according to your specific requirements.
It prevents unnecessary energy consumption and delivers reliable performance around the clock.
5. Effortless Handling of Solids and Debris
The Pedestal Pump can handle solids and debris up to 3/16″, ensuring efficient operation even in challenging environments. This superior performance ensures a consistent and smooth flow, minimizing the risk of clogs and blockages.
Positive Facts:
Effective pumping performance
Easy to install
Reliable operation for daily use
User manual available for installation
3600 GPH
Can pump 3/16″ solids
Adjustable float switch
Negative Facts:
May require adjustment to function properly
---
5. Star Pedestal 12″ Sump Pump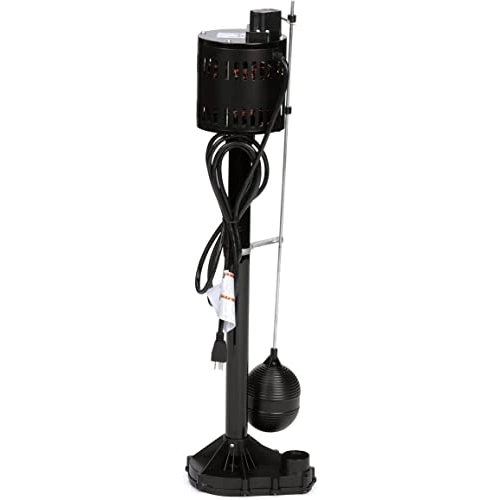 Protect your home and valuables from the devastating effects of heavy rain or flooding with Star Sump Pump. This exceptional pump is designed for maximum performance, offering a range of features ideal for anyone needing to evacuate excess water quickly and easily reliably.
1. High-Efficiency Motor with Thermal Overload Protection:
The Star Pedestal 12″ Sump Pump features an extra high efficiency 1/3 horsepower motor capable of pumping up to 3480 gallons of water per hour. It is built to withstand demanding conditions. The motor has thermal overload protection, preventing overheating and ensuring long-lasting performance.
2. Durable Shaft and Impeller Design:
Constructed with thermoplastic material, the Star Pedestal Sump Pump is designed to last. The durable shaft and impeller, coupled with the top suction strainer, filter out debris that might clog or damage the pump, ensuring continuous operation even in flooded areas.
3. Easy Installation with Adjustable On/Off Float:
Included installation instructions make it easy for homeowners to install the Pedestal 12″ Sump Pump themselves in just a few easy steps. With the adjustable on/off float and rod type switch, the pump offers customized operation tailored to your specific needs.
4. Low Profile Footprint and High Capacity Performance:
The Sump Pump is designed with a low profile footprint, allowing it to fit into 12-inch diameter pits ideal for basements and other confined spaces. Despite its compact size, this powerful sump pump can drain 3 feet of water from a 400 sq. ft. area in just 3 hours.
Pros:
Extra high efficiency motor
Thermal overload protection
Durable shaft and impeller design
Fits into 12-inch diameter pits
Adjustable on/off float
Dependable with cast iron base
1-1/4 inch discharge pipe
130°F continuously operating temperature
Suitable for use in flooded areas
Cons:
Initial skepticism due to the small size
Confusion over the warmth feature not getting warm
---
Comparison Chart of the Pedestal Sump Pumps:
| | | | | |
| --- | --- | --- | --- | --- |
| Product Name | Horsepower | Discharge | Base Material | Voltage |
| WaterAce Sump Pump Float Switch | 1/3 HP | 1-1/2″ FNPT | Cast Iron | 115 Volts |
| Superior Pump | 1/3 HP | 1-1/4″ NPT | Thermoplastic | 120 Volts |
| Flotec Sump Pump | 1/3 HP | 1-1/4″ NPT | Thermoplastic | 100 Volts |
| ECO FLO Pedestal Pump | 1/3 HP | 1-1/2″ FNPT | Thermoplastic | 115 Volts |
| Star Pedestal Sump Pump | 1/3 HP | 1-1/4″ NPT | Thermoplastic | 115 Volts |
Buying Guides On The Best Pedestal Sump Pumps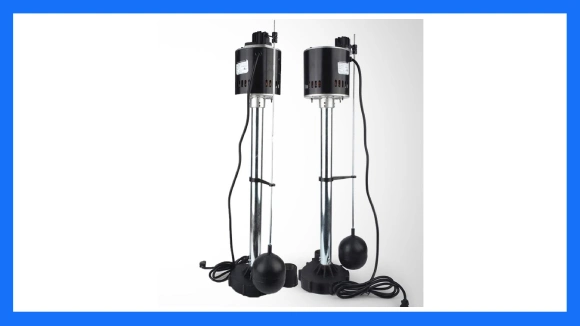 With many features to mull over when choosing the right pedestal sump pump, it can be difficult to find one that satisfies your needs. To make this process easier, our guide shares all the information necessary for an educated decision by highlighting some key considerations.
1: Horsepower
When selecting the best pedestal sump pump for your needs, it is important to consider the horsepower of the pump. The horsepower of a sump pump refers to its capacity to pump water and will ultimately determine the pump's efficiency in dealing with excess water.
Higher horsepower pedestal pumps are ideal for larger homes, commercial buildings, or situations where higher volumes of water need to be pumped. Typical submersible sump pumps range from 1/3 to 1/2 horsepower, although more powerful models are available for commercial applications.
Choosing the right amount of horsepower for your needs is essential. Underpowered thermoplastic pumps may not be sufficient to keep your basement dry, and overpowered pumps can lead to higher energy costs.
2: Discharge
Another crucial feature of the best sump pump is the discharge capacity. The discharge refers to the rate at which water is pumped from the sump basin and out of your home or building.
A pump with a high discharge capacity can move more water in a given time, which will help reduce the risk of flooding during heavy rain or snowmelt. To ensure the most efficient performance, look for a pump with a discharge capacity from 1-1/4 – 1-1/2.
It is suitable for the size of your sump pit and the distance the water needs to travel to be removed from your property. Some pedestal pumps offer adjustable discharge settings, allowing you to customize the pump's capacity to the specific needs of your home or building.
3: Base and Column Material
The materials used in constructing the best sump pumps are critical to their durability and longevity. The base and column of a pedestal sump pump are essential components responsible for supporting the unit and housing the motor.
These components should be made from high-quality materials like cast iron, stainless steel, or thermoplastic. It ensures they can withstand the wear and tear of constant operation.
Cast iron bases and columns are known for their durability and stability, while stainless steel components are corrosion-resistant and lightweight. Thermoplastic materials are also resistant to corrosion and rust, offering a more budget-friendly option with a long lifespan.
Choose a pedestal sump pump with a durable base and column material to prevent premature wear and failure, ensuring long-lasting performance and protection for your home or building.
4: Adjustable Float Switch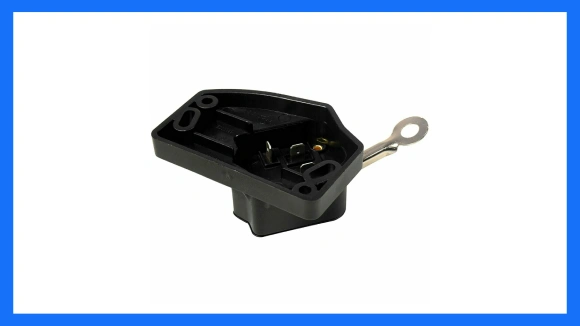 The best pedestal sump pump should also feature an adjustable float switch. It allows for customizable operation based on the specific conditions of your sump Basin. The float switch activates the pump's motor when the water in the sump pit reaches a certain level, preventing flooding and water damage.
An adjustable float switch allows you to determine the activation point for the pump, ensuring optimal performance and protection for your property. This feature can be particularly useful in systems with fluctuating water levels.
Also, this feature is needed in scenarios where the pump's activation point needs to be changed to accommodate seasonal variations in water flow.
By selecting a pedestal sump pump with an adjustable float switch, you can enjoy greater control over the pump's operation. You can ensure the best possible protection against basement flooding and water damage.
5: Voltage
When looking for the best pedestal sump pump, one of the most important features to consider is the voltage. Higher capacity pedestal pumps may require more power, which a higher voltage rating can provide.
Choose a pump with the correct voltage rating in order to ensure that it will properly meet your needs. You should ensure that the pump is compatible with your home or business's electrical system and will not cause any safety hazards.
Pedestal submersible sump pumps come in two distinct voltage ranges: 100V and 220V, to suit a multitude of electrical power requirements. To guarantee optimal performance, it is essential that the pump's rating be compatible with your property's electricity supply.
6: Gallons Per Hour (GPH)
A pedestal sump pump's gallons per hour (GPH) capacity is an important feature when selecting the best one for your needs. A high GPH rating means the pump can move more water quickly, making it well-suited for tackling large volumes of water.
For example, if you have a basement or crawl space with significant flooding potential, then you would need a higher GPH rating to handle it effectively. Double-check the GPH rating before purchasing your sump pump to ensure you have enough power for whatever job you are trying to accomplish.
7: Power Cord Length
The length of the power cord on a pedestal sump pump can also play an important role in selecting one for your needs. It is important to ensure that you choose a model with enough length so that you can easily reach any necessary outlets without having to purchase additional extension cords.
If possible, try to find one with a 10' cord length long enough to reach around corners and through doorways if there isn't an outlet nearby. Ensure that the cord is heavy-duty and capable of handling the wattage required by the motor so that it won't overheat or become damaged during operation.
8: Weight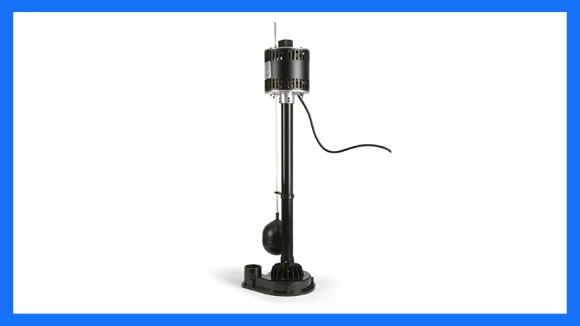 Another important feature when looking for the best rated pedestal sump pump is weight. Heavier models tend to be sturdier and more reliable than lightweight models. They can better withstand vibrations from the operation and move during maintenance work without becoming damaged or malfunctioning prematurely.
Heavier models often have larger motors that provide greater pumping capabilities compared to lighter models of similar sizes. It makes them well-suited for larger jobs such as draining flooded basements or outdoor pools quickly and efficiently.
9: Power Source
Another key factor when choosing between different pedestal sump pumps is what type of power source they use. Most pedestal submersible pumps run on either electricity or battery power backup.
Electric models are usually cheaper upfront, while battery powered models are more expensive. The best battery backup pedestal sump pumps require less ongoing maintenance costs due to their ability to operate independently from external sources.
10. Minimal Quiet Operation
A noise-free operation is desirable for those wanting a pedestal sump pump that will not disrupt their everyday life. While complete silence may not be attainable, look for pumps with advanced motor technologies that guarantee minimal vibration and noise during operation.
This will ensure that the unit continues working efficiently during times of high-water activity without causing any disturbance to you or your family members.
Ultimately it will be up to each individual user's preferences and specific application requirements which type makes sense for them. So carefully weigh all these factors before making a purchasing decision.
Does a Pedestal Sump Pump Need a Check Valve?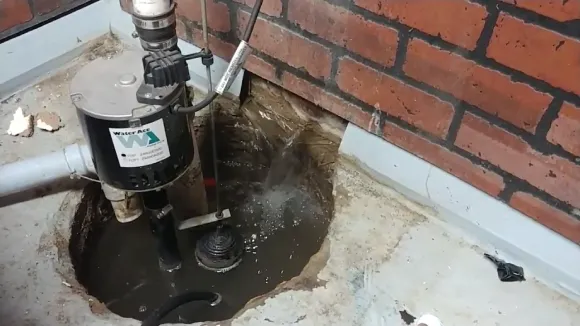 A pedestal sump pump does need to be installed with a check valve. A check valve prevents water from flowing back into the sump pit after the pump has been activated and will help keep the pump from working harder than necessary. This helps to reduce energy consumption and extends the life of your pump, ultimately saving on costs.
Does a Pedestal Sump Pump Need a Weep Hole?
A pedestal sump pump needs to have a weep hole installed in order for it to function properly. A weep hole releases excess water and air in the sump pit outside the system.
Without this release mechanism, the pump may become air-locked due to excessive water or air pressure build-up, resulting in failure. A weep hole makes regular maintenance and inspection easier since any buildup can be monitored more closely.
Can a Pedestal Sump Pump Get Wet?
A pedestal sump pump is designed to withstand wet conditions and is meant to be fully submerged in water when in use. The motor and electrical components are mounted above the waterline, which makes them less susceptible to water damage.
These components are enclosed in a waterproof housing, ensuring the durability and long-lasting performance of the pump. It is crucial that the power cord and electrical connections are properly sealed to avoid potential leaking and water-induced hazards.
Are Pedestal Sump Pumps Noisy?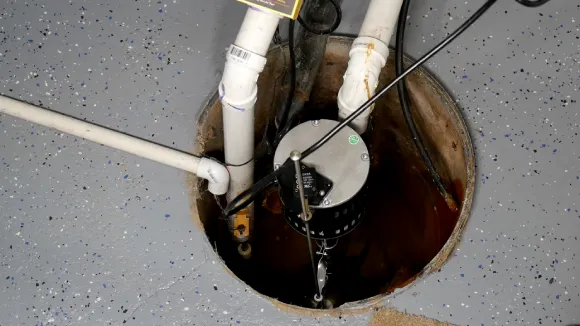 Pedestal sump pumps can be noisier than their submersible counterparts, primarily due to the motor being located above the sump pit. This position can lead to increased vibration and noise levels during operation, which can be a concern in residential settings.
However, many manufacturers have addressed this issue by incorporating advancements in technology and engineering to produce quieter pedestal submersible pumps. Innovative features such as sound-absorbing materials, optimized vibration reduction systems, and improved motor chamber designs have reduced noise levels.
Should a Sump Pump Sit on Gravel?
A sump pump should not sit on gravel. The purpose of a sump pump is to move water away from an area. Ensure the sump pump is installed on a level and stable surface for the best performance.
If the pump is situated on gravel, it can cause instability and reduce efficiency due to debris and sediment, interfering with the pump's operation. For this reason, a solid base such as concrete or plastic/rubber stand is recommended for installation.
Protect Your Basement from Flooding with a Superior Pedestal Sump Pump
Installing a pedestal sump pump can effectively protect your basement against groundwater runoff and seasonal flooding. It has many features and benefits compared to other types of sump pumps.
Dealing with groundwater runoff or flooding in your home need no longer be a daunting task. Now that you know how to select the best pedestal sump pump for your home, you can take the next step in safeguarding your property from water damage.
While there are many types of pumps, it is best to select a WaterAce Pump with the necessary features such as high horsepower, an adjustable float switch, appropriate discharge, and durable material. With it in your basement or crawlspace, you can have peace of mind knowing that your property is safe from water damage.
Sale