Last Updated on May 17, 2023
A constant supply of water will eventually lead to your water tank being filled up and overflowing.
It is your responsibility to monitor the water level in your tank constantly and to manually close or open the valve as necessary so that water does not overflow. This is a tedious and time-consuming task.
Using a float valve can automate this process and relieve you of the hassle of constantly monitoring your tank's water level.
You need to choose the best float valve for water tanks so that you can be confident that your tank will always have the right amount of water.
Keep away from inferior valves as they may not function properly and cause your tank to overflow. Reading product reviews will help you determine what works well for water tanks.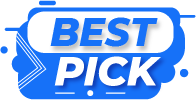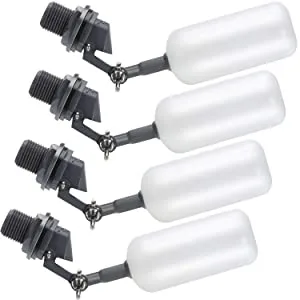 Meekoo Vinyl Float Ball Valve for Water Tank
● Supply Tube Size: 1/2 inch
● Adjustable: Yes
● Product Quantity: 4
● Material: Abs
● Weight: 5.93 Ounces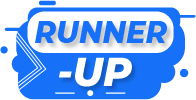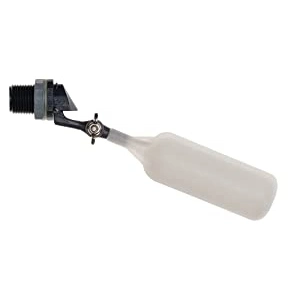 Kerick Mini Adjustable Float Valve
● Supply Tube Size: 1/2 inch
● Adjustable: Yes
● Product Quantity: 1
● Material: Stainless Steel, PVC
● Weight: 1.6 Ounces
What Does a Float Valve Look Like?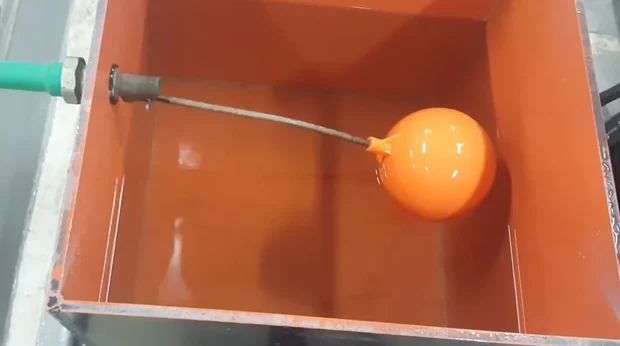 There are three main parts to a float valve, which include the float, the arm, and the valve body. A float is a buoyant object that resembles a ball. Sometimes the float looks like a bottle.
In the interior of the float, there is a hollow space that is filled with air. There is a connection between the float and the arm. The arm is a long rod that is connected to the valve body.
Water flows into and out of the valve body. As the tank's water level rises, the float rises with it.
When the water reaches a certain level, the float activates the valve, which allows water to flow into the tank. The float then drops back down, and the process begins again.
What is the Best Float Valve With a 1/2 Inch NPT Pipe Thread?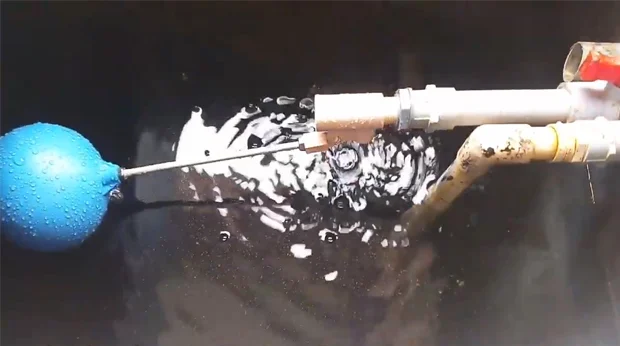 Most water tanks come with a threaded outlet that allows you to install a float valve. There are several sizes of NPT fittings, the most common one being 1/2 inch, which is the standard size for most water lines.
If you have a 1/2-inch NPT pipe thread, you will need to select a float valve of the same size to ensure a proper fit. Several float valves have a thread size of 1/2″ NPT, but you can consider the following two best options in the market.
➤ Meekoo Vinyl Float Ball Valve for Water Tank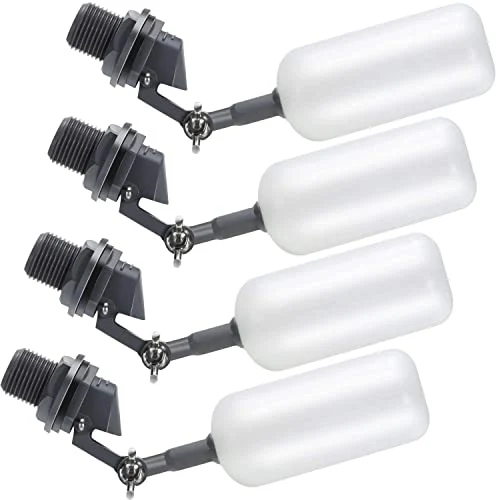 Meekoo provides you with four packs of tank float valves so that you may easily replace any valves that may need to be replaced.
Its hard ABS plastic construction provides durability and reliability, so you can expect these valves to last for a long time and provide good services.
This valve is designed with a National Pipe Tapered inlet connection type and an MNPT outlet connection type, making it versatile and easy to use. Due to its 1/2 NPT pipe thread, it is suitable for use with most standard water tanks.
Reasons That May Attract You:
There is no need for electricity or a pump to operate this water tank valve. Your tank's water level can be easily controlled with this device. This product can be used in gravity feeding systems with low pressure.
A reliable and convenient choice for your needs, it provides leak-free operation when tightened by hand. This valve is not susceptible to corrosion or rust, ensuring it will last for a long time in your tank.
It can be adjusted to fit any size tank since the arms are adjustable. A standard gasket ensures that there is no leakage and that the connection is secure. It may be worthwhile for you to consider using this float ball valve for the water tank.
Positive Aspects:
ABS plastic construction for durability
It can be used without electricity or a pump
Adjustable arms for a perfect fit
Gasket included for leak-proof operation
Easily adjustable to fit any size tank
Limitations:
For large tanks, the flow of water may seem low
Over time, gaskets may weaken, and leaks may occur
---
➤ Kerick Mini Adjustable Float Valve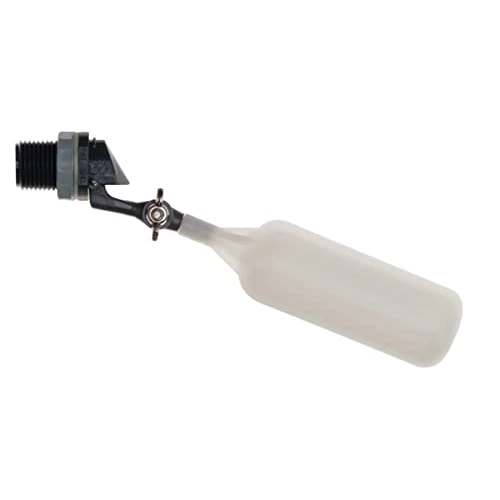 Kerick's float valve provides a flow rate of up to 1.5 GPM at 60 PSI, making it well suited for small applications. The valve has an NPT pipe thread of 1/2 inch.
Polyvinyl chloride is used for the float, ensuring its durability. It has a stainless steel exterior finish, making it a nice appearance and ensuring its durability. There is an MNPT connection type, which makes it easy to connect to your water supply.
Reasons That May Attract You:
It is adjustable to ensure that the correct flow rate is achieved for your system. Due to the non-corrosive nature of PVC, it will not rust or corrode over time.
Extended mounting threads are on the valve's inlet side, making it possible to mount it through the tank wall. This valve can be easily installed with a few simple tools. Choosing the Kerick mini adjustable float valve can be a wise decision for you.
Positive Aspects:
Durable float made of polyvinyl chloride
Stainless steel exterior finish for durability and good appearance
Easy to install with a few simple tools
Corrosion resistance for long-term use
Limitations:
Water flow is a little bit slow
Too much water pressure can cause float valves to struggle to shut off
---
Why Does Your Water Tank Need a Corrosion Resistant Float Valve?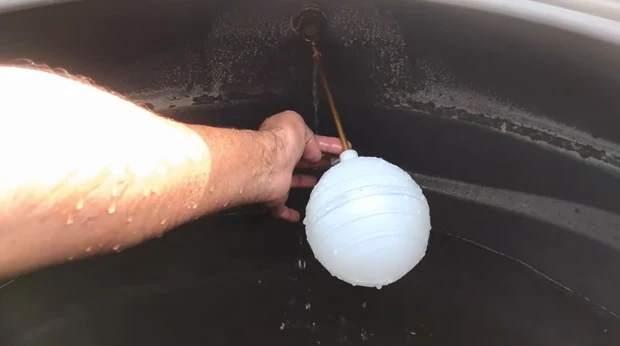 As the float valve is constantly exposed to water, there will be a build-up of minerals and other materials on the surface of the valve. This can lead to corrosion, which can eventually cause the float valve to fail.
In order to prevent this from happening, selecting a product that is resistant to corrosion is important. Here are some reasons why you should make sure your float valve is corrosion resistant:
1. Prevent Sediment Build-up: Sediment build-up is one of the biggest enemies of water tanks. Over time, sediment can clog up the tank's filters and reduce its efficiency.
Corrosion-resistant float valves will help to prevent sediment build-up by allowing water to flow freely into the tank.
2. Prolong the Life of Your Tank: If your float valves are not corrosion-resistant, a significant amount of rust will develop. This rust can spread to other parts of the tank and cause it to degrade.
As corrosion-resistant float valves don't build up minerals, they won't cause your water tank to corrode. This will help prolong your tank's life and keep it functioning properly for a long time.
3. Improve Water Quality: The corrosion-prone float valves can pick up rusted particles and contaminate the water. This can lead to a significant deterioration in water quality.
You can avoid this problem by using corrosion-resistant float valves. There will be no contaminants in your water, so you can be confident of its quality.
4. Low Maintenance Requirements: The corrosion-resistant float valve requires little maintenance because it does not require frequent cleaning. This means that you won't have to spend much time or money on keeping them in good condition.
5. Avoid Frequent Replacement: If you use float valves that are not corrosion-resistant, you will probably have to replace them quite frequently. This can be expensive and time-consuming.
By using corrosion-resistant valves, you can avoid this problem and save yourself some money. Because they last longer, they are a more cost-effective option in the long run.
For all these reasons, it is evident that corrosion-resistant float valves are the best option for water tanks. If you want to enjoy all these benefits, make sure you select float valves that are made from corrosion-resistant materials.
Below are two top-rated corrosion-resistant float valves that you may wish to consider for your tank.
➤ MACGOAL Adjustable Arm Float Valve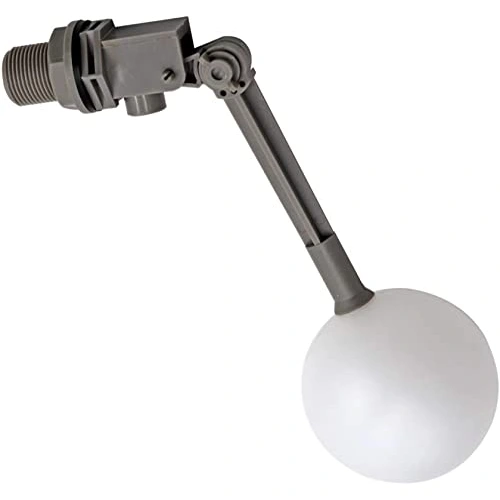 This float valve from MACGOAL is made from strong engineering plastic ABS and PE (Polyethylene), which is highly sturdy and unlikely to break.
With over 180 degrees of adjustment range, it can be easily modified to fit any configuration. 3/4″ thread makes it compatible with most standard fittings.
Reasons That May Attract You:
Upon closing the valve, the rubber washer ensures that the seal is tight, preventing water from escaping. The purpose of this is to ensure that your water storage tank remains full and does not waste water.
This product lasts for a long time because of the PVC screw that can protect it from rust and oxidation. The water level in your water tanks can be easily controlled with the help of this float valve.
Since it is easy to install and adjustable, it is ideal for use in water tanks. This adjustable arm float valve has a simple design, makes it easy to operate and allows you to adjust the water level according to your preference.
Positive Aspects:
PVC screw prevents rust and oxidation
Easy to install and operate
Durable engineering plastic ABS and PE (Polyethylene) construction
3/4″ thread for compatibility with most standard fittings
Rubber washer for a tight seal
Limitations:
You'll need a garden hose converter to attach to a standard garden hose.
Potential for the valve to leak if not properly adjusted
---
➤ Mudder 1/4 Inch Float Valve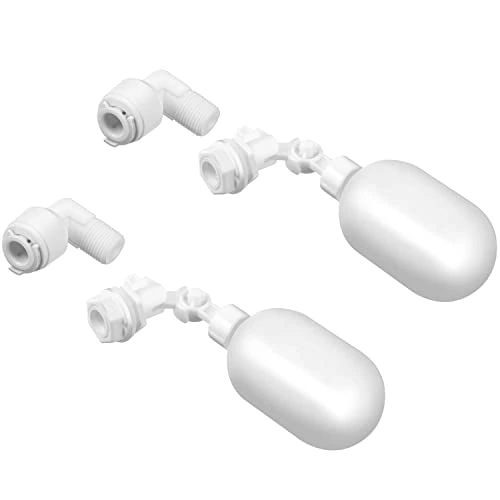 The Mudder float valve provides a reliable way to maintain your tank's water level. This handy device can be connected to a 1/4 inch supply tube, making it easy to get the water where you need it.
Two water float valves are in this package. As the ball is constructed of PE material, it is expected to have a long lifespan and reliable performance. The adjustable arms make it easy to customize the valve to meet your needs.
Reasons That May Attract You:
Due to its low-temperature resistance and corrosion resistance, it can be used in both indoor and outdoor tanks.
This product is easy to install and can be adjusted easily in order to control the flow of water. It is made of durable, non-toxic materials, so you can be confident it won't leach chemicals into your water.
The adjustable sink float valve can control the water level in the pond, pool, aquarium, reservoir, and other places. Due to the adjustable angle of the valve ball, you are able to customize the flow according to your needs.
With this 1/4 inch float valve, you can maintain a smooth and consistent flow of water in any low-pressure gravity water system. With its hand tightening feature, you can rely on it to keep your valve running smoothly.
Positive Aspects:
Easy to install and adjust
Corrosion-resistant for a long lifespan
Low-temperature resistance for both indoor and outdoor tanks
Non-toxic and durable materials
Limitations:
After prolonged use, a slow leak may occur
Does not come with installation instructions
---
Is There Any Good Quality Stainless Steel & Brass Made Float Valve?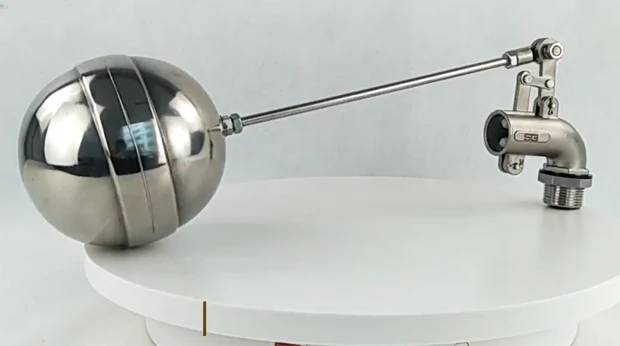 Brass and stainless steel are two of the most popular materials used to create float valves for water tanks. Each metal has its own unique advantages that make it well-suited for use in float valves.
Stainless steel is known for its durability and resistance to corrosion, while brass is prized for its strength and hardness. Both metals are highly strong and will provide years of trouble-free performance.
When choosing a floating valve for your water tank, consider the benefits of both stainless steel and brass to find the material that best meets your needs.
You may wish to consider this model if you are looking for the best float valve made of stainless steel and brass for water tanks.
➤ QWORK Stainless Steel Ball Float Valve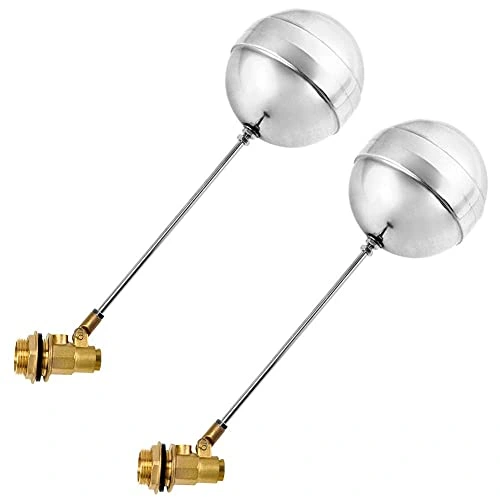 QWORK's float valve is constructed of brass and features a stainless steel floating ball, making it durable and reliable. This ball floating valve is suitable for use in water tanks, reservoirs, and swimming pools.
With a G3/4 inch thread, it is easy to connect to many pipe connections. With the help of a nut and washer, the float ball is attached to the valve rod so that it can be adjusted up or down in order to adjust the water level.
Reasons That May Attract You:
It has a high-temperature rubber seal that ensures there is no leaking, which is important in a valve. This is a sturdy and reliable product that can be used for a long time.
There is a wide range of uses for ball float valves in magnetic level switches and liquid level measurements, making it an extremely versatile and useful product. Considering this stainless steel ball float valve can be beneficial for you in the long run.
Positive Aspects:
The G3/4 inch thread fits many pipe connections
Features a high-temperature rubber seal to prevent leaking
Durable brass construction with a stainless steel floating ball
Can be used for a wide range of purposes
Limitations:
Water leaks can occur if the float valve is not connected correctly.
---
Water Tank Float Valve Comparison Chart:
| | | | | | |
| --- | --- | --- | --- | --- | --- |
| Name | Supply Tube Size | Adjustable | Product Quantity | Material | Weight |
| Meekoo Water Tank Float Valve | 1/2 inch | Yes | 4 | Abs | 5.93 Ounces |
| Kerick Float Valve for Water Tank | 1/2 inch | Yes | 1 | Stainless Steel, PVC | 1.6 Ounces |
| MACGOAL Water Float Valve | 3/4 inch | Yes | 1 | Abs, Plastic, Rubber | 0.23 lbs |
| Mudder Float Ball Valve | 1/4 inch | Yes | 2 | PE & POM Plastic | 2.4 Ounces |
| QWORK Water Float Valve | 3/4 inch | Yes | 2 | Stainless Steel, Rubber, Brass | 1.21 Pounds |
Factors to Consider When Choosing the Best Float Valve for Water Tanks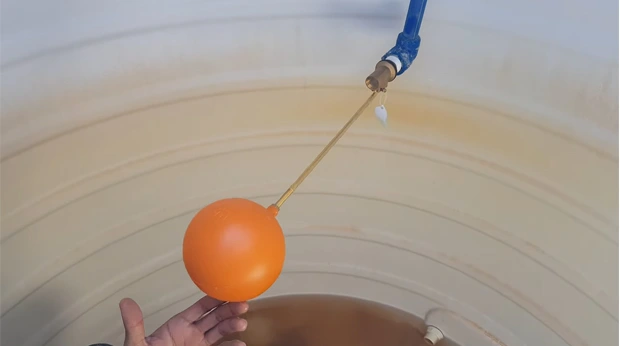 Finding the appropriate float valve for water tanks is not always easy. In this regard, several factors need to be taken into account.
This will assist you in narrowing down your choices and determining which product is most appropriate for your needs. The following are some factors you need to consider when making your decision.
1. The Size of The Float Valve
When choosing a quality water tank float valve, size definitely matters. You need to ensure that the valve is large enough to fit your tank properly. But how do you know what size valve to use for your water tank?
The answer depends on a few factors, including the tank's size and the inlet pipe's width. Generally speaking, the larger the tank, the larger the float valves will need to be.
That said, it's important to ensure that the float valve you select is not too large for the inlet pipe. Otherwise, you'll have difficulty connecting it. The width of the inlet pipe will determine the size of the valve you need, so it is important to get this measurement right.
Using a tape measure is the easiest way to measure the inlet pipe's width. It is sufficient to measure the inner diameter of the pipe and select a product with the same diameter as the pipe.
This will ensure a snug and secure fit. On the product's packaging, you will find information regarding the width of the valve.
2. Inlet & Outlet Connection Type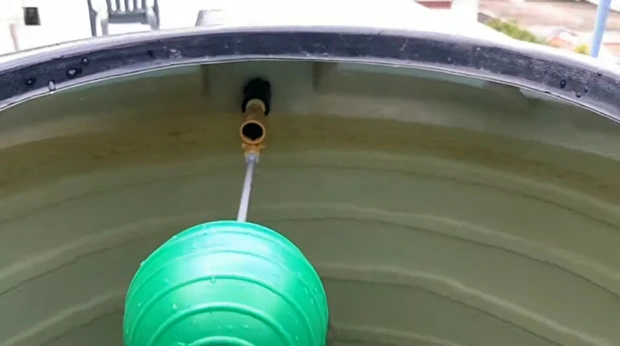 In selecting the float valves, it is essential to consider the inlet & outlet connection type, as it determines how the valve will be connected to the water supply.
National Pipe Tapered (NPT) is the residential and commercial water tank's most common inlet connection type. NPT is a tapered thread that allows for a secure connection between the valve and the water supply.
If your tank has an NPT inlet connection, then it is necessary to select a float valve with an NPT connection. Regarding outlet connection types, MNPT (male nominal pipe thread) is the most common.
This type of connection ensures that the valve is securely connected to the water outlet. Selecting the float valves with an MNPT connection will ensure a leak-free seal. Look at the product's packaging to see what type of inlet & outlet connection it has.
3. Material
It is also important to consider the material of the float valve because it will determine its durability and longevity. The most common material used for float valves is polyvinyl chloride (PVC), stainless steel, and brass.
PVC is a lightweight and durable material that is resistant to corrosion. Stainless steel and brass are also strong materials. Sometimes, you will find float valves that are made from a combination of different materials.
For example, a float valve might have a PVC body with a brass inlet & outlet connection. The best water tank float valve is made of high-quality materials that are durable enough to withstand daily use. Make sure to verify the materials used before making your purchase.
4. Flow Rate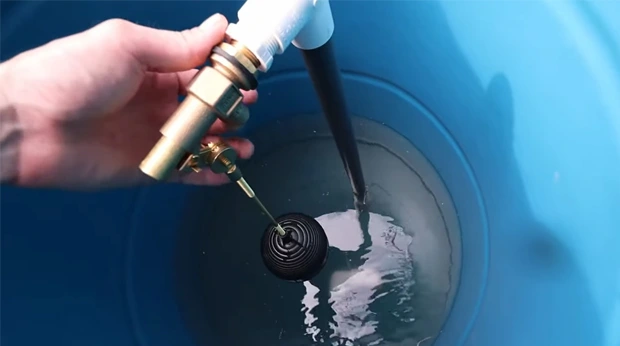 The flow rate of a valve refers to the amount of water passing through it in a given period. It is usually measured in gallons per minute (GPM). The higher the flow rate, the more water can pass through the valve.
When selecting a float valve for your water storage tank, you must ensure that the flow rate is appropriate for your needs. You won't need a float valve with a high flow rate if you have a small tank.
Conversely, if you have a large tank, then you will need a valve with a higher flow rate. In most cases, the flow rate of the product is indicated on its packaging.
You will find a number followed by "GPM." This is the flow rate of the valve. Make sure to select a valve with a flow rate that is appropriate for your needs.
5. Pressure Rating
It is important to know the pressure rating of a float valve, as it determines the maximum amount of water pressure the valve can handle. Pressure ratings are usually expressed in pounds per square inch (PSI).
A higher PSI will allow the valve to handle a higher water pressure. When selecting the best tank float valve for your needs, make sure that it has an appropriate and average rating.
For high-pressure water systems, a valve with a high PSI is required. Otherwise, the valve might not be able to stop the flow of water properly.
6. Temperature Rating
Some float valves are designed for use at specific temperatures, while others are suitable for use at a wide range of temperatures. A float valve's temperature rating should be considered when selecting one for your tank.
The float valve's ability to function properly at different temperatures will affect its overall quality and performance. You should ensure that the valve can withstand high temperatures if you live in a hot climate.
In this way, the valve will be able to withstand the rigors of daily use. Ensure that the valve is resistant to low temperatures if you live in an area with a cold climate. In this way, the valve will be able to function properly in colder temperatures.
7. Adjustability
The best water trough float valve is one that has an adjustable arm. You can use the adjustable screws to set the height of the water level.
With this design, you can adjust your valve's performance according to your specific requirements. This is a useful feature to have if you want to be able to control the amount of water in your tank.
It is imperative that you select a valve with this feature. A valve with this feature can be identified by the presence of screws on its side.
Where Should Float Valves Be Installed?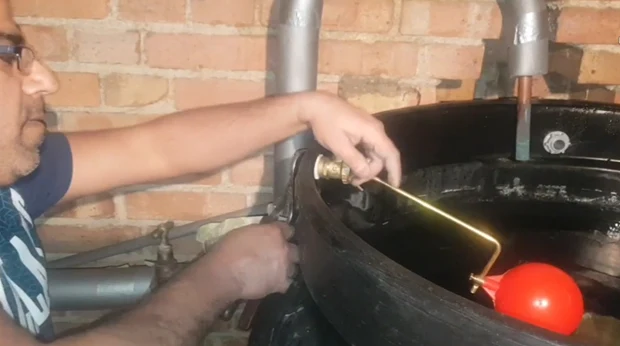 The float valve is typically installed near the top of the tank, where it can control the water inflow. The installation location can vary depending on the size and shape of your tank. The most important thing is to ensure the valve is installed in a location where it can properly control the water level.
It is important to install the float valve high enough, so the water level doesn't exceed the valve's maximum operating height. Otherwise, the valve will not be able to shut off the water properly.
How to Install a Float Valve In a Water Storage Tank?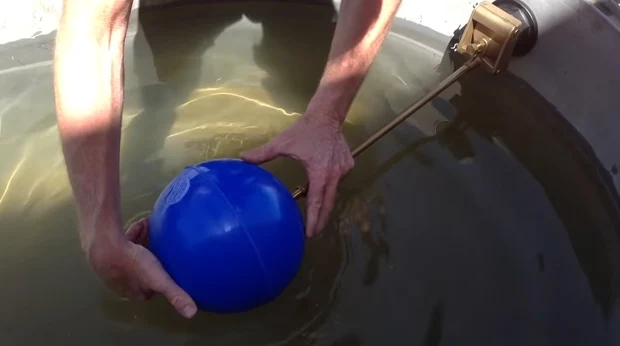 If you are wondering how to install a float valve in a water storage tank, the process is quite simple.
While there are many different types and sizes of float valves available, the installation process is generally the same for all valves. Follow the steps below to install your float valve properly.
1. Collect the Required Tools and Materials: Before you begin, ensure you have all the tools and materials you need. You will need an adjustable or pipe wrench, Teflon tape, glue, and a float valve.
2. Turn Off the Water Supply: After you have gathered the necessary tools and materials, shut off the water supply. This will ensure that you don't accidentally flood your home while installing the valve.
3. Prepare the Pipe: In the next step, the pipe will be prepared for the float valve. If you are using a PVC pipe, you will need to sand down the end of the pipe to ensure that it is smooth. This will help to prevent leaks.
4. Apply Teflon Tape: Once the pipe is prepared, the next step is to apply Teflon tape to the threads of the pipe. This will help to create a watertight seal.
5. Attach the Pipe to the Tank: Following the application of the Teflon tape, the pipe should be attached to the tank. Make sure that the pipe is inserted into the tank. If the pipe is not properly sealed, water will leak from its edges.
6. Apply Glue: The glue needs to be applied to the edges of the pipe after it's inserted into the tank. In this way, a watertight seal can be created.
7. Install the Float Valve: After the glue has been applied, the next step is to install the float valve. To do this, screw the valve onto the end of the pipe.
8. Turn on the Water Supply: As soon as the water supply valve has been installed, the next step is to turn it on. By doing so, water will be able to flow into the tank.
9. Test the Valve: Upon turning on the water supply, the next step is to test the valve. To do this, simply open the valve and allow water to flow. If water leaks out around the edges of the valve, then the valve is not installed correctly.
When installed correctly, the valve should allow water to flow without leaks. You should use your hand to raise the float and make sure that it shuts off the water supply. Once it can prevent water from entering, the installation is complete.
How Do You Adjust The Ball Float In a Water Tank?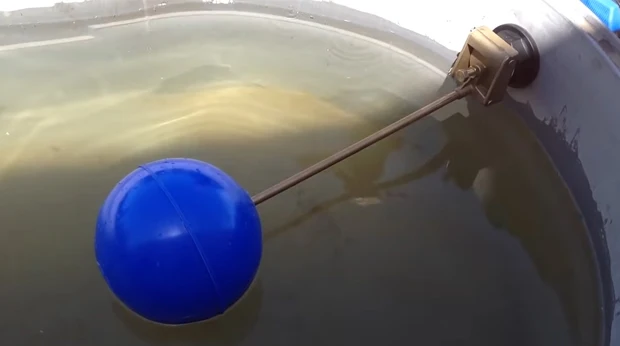 If the ball float is set too low, the volume of water in the tank will be too low, and the pump may run dry. A ball float set too high will result in an excessively high water level in the tank, which may lead to overflowing.
To adjust the ball float, loosen the adjustment nut and screw on the float's arm. Once the nut is loose, you can slide the ball float up or down the arm to adjust the water level.
After adjusting the ball float, be sure to retighten the adjustment nut. You can also adjust the ball float if your valve does not have an adjustable arm.
But ensure that the valve has a metal rod that can be banded, such as steel. Banding the rod to lower or higher positions allows you to adjust the ball float without replacing the entire valve.
How to Fix a Water Tank Float Valve?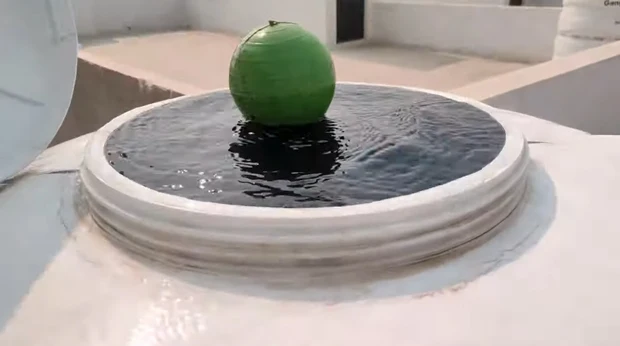 If your water storage tank float valve is not working properly, there are a few things that you can do to fix it. The first thing that you should do is check the O-ring.
The O-ring is responsible for creating a watertight seal between the valve's body and the lid. If the O-ring is damaged, it will need to be replaced. As a next step, you may examine the float ball.
Different methods can be used to fix a cracked or damaged float ball. If the float ball is made of plastic, you can use electrical tape to patch it up. The use of super glue is also an option for repairing small holes.
Solder can be used to repair a metal float ball. But the best course of action is to replace the float ball entirely. In some cases, the valve itself may cause the problem.
If the valve is damaged, you will need to replace it. But if the valve is not working properly, you can try cleaning it with vinegar. Simply pour vinegar into the valve and let it sit for a few hours.
After a few hours have passed, you can flush out the vinegar with water. This may fix the problem.
How Long Do Water Tank Float Valves Last?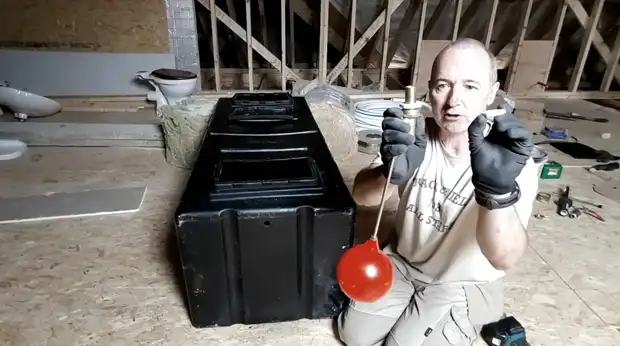 Generally speaking, a water tank float valve should last for many years. A number of factors can affect its lifespans, such as the quality of the materials used and the level of maintenance it receives.
A well-made float valve can last up to 5 years with proper care and maintenance. Check your float valve regularly for any signs of wear and tear and replace it if necessary.
Keep the Water in Control With a Quality Float Valve
It is evident now how crucial it is for your water storage tank to have a float valve. Not only does it help to regulate the water level in the tank, but it also prevents overfilling and water damage.
All of the products listed in this article are of high quality, and we expect them to serve you well. You can compare and contrast the various features of each float valve to determine which is best for your application.
Don't forget to take our buying guide into account. Now that you know all this information, you're ready to choose the best float valve for water tanks. Be sure to install it correctly so that you can get the most out of it and enjoy years of worry-free use.