Last Updated on May 17, 2023
The interior of your home becomes very cold during winter, which is why you install a radiator to help circulate heat. But in manual radiator valves, you have to adjust the temperature manually. Due to this, your home may feel hotter than necessary. Manually adjusting the temperature is also a hassle.
Installing a thermostatic radiator valve will prevent you from experiencing all of these inconveniences. It automatically regulates the flow of hot water to your radiators, maintaining a consistent temperature in your home. So you don't have to worry about your home being too hot or too cold.
To achieve the maximum benefit, selecting the best thermostatic radiator valves is essential. A substandard valve may not function efficiently. You need to compare the specifications and features of different valve models to determine which valve is most suitable for your needs.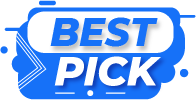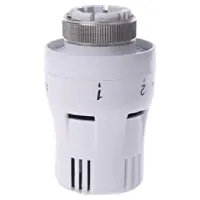 RUZYY Pneumatic Temperature Control Valve
● Material: ABS & Metal
● Temperature: Adjustable temperature range of 5 to 32°C
● Pressure: 10bar maximum working pressure
● Thread: M30X1.5mm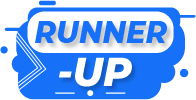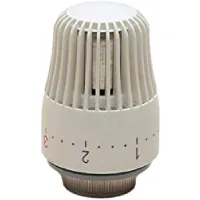 KRONDO Straight Thermostatic Radiator Valve
● Material: Abs Plastic, Bronze
● Temperature: Temperature range: 6°C to 28°C
● Pressure: 1 mpa nominal pressure
● Thread: M30X1.5
Do Thermostatic Radiator Valves Save Energy?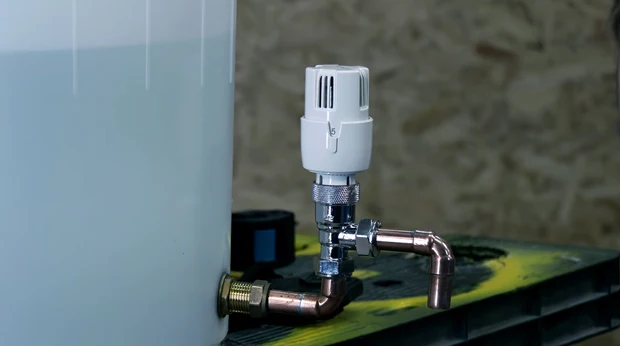 Thermostatic radiator valves (TRVs) can save a lot of energy and money. They regulate hot water flow to a radiator to maintain a comfortable room temperature while minimizing energy consumption.
TRVs measure the temperature of the air around the radiator. When the air temperature falls below the set point, the valve opens to allow more hot water to flow into the radiator.
If the air temperature is higher than the set point, the valve closes to reduce the flow of hot water. Therefore, TRVs can help to keep a room at a consistent temperature without wasting energy.
Using TRVs can also help to extend the life of your boiler or heating system by preventing it from working overtime to heat your home.
An estimate is that TRVs can save you approximately 40% on your heating expenses. Due to this, investing in TRVs is a great way to save energy and money. TRVs also act as manual valves because you can still adjust the flow of hot water manually.
An investment in a quality TRV is much more important since a low-quality TRV may not perform as expected. That is why you should check out the top-rated smart thermostatic radiator valves before purchasing.
Best Thermostatic Radiator Valves Review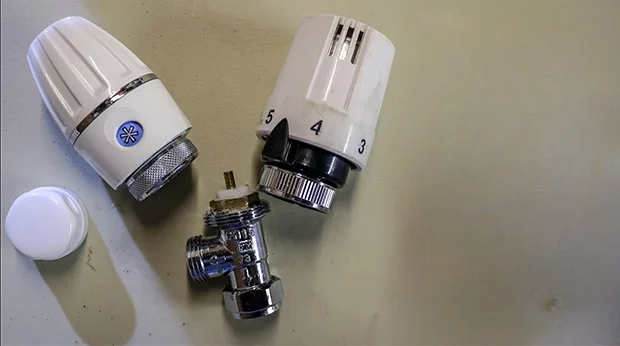 You understand that only a high-quality and reliable thermostatic radiator valve can provide you with the best performance. Many thermostatic radiator valves are available on the market, and choosing the appropriate one can be confusing.
To help you choose the right thermostatic radiator valve, we have reviewed the top five products. We hope this review will assist you in making a decision. Take a look at each device's specifications, features, pros, and cons and decide which is most appropriate for you.
1. RUZYY Pneumatic Temperature Control Valve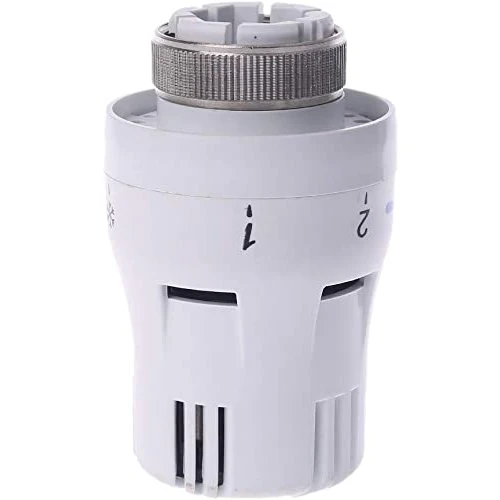 The RUZYY thermostatic radiator valve utilizes a pneumatic temperature control mechanism with a temperature adjustment range of 5 to 32 degrees Celsius. It also has a temperature hysteresis of 1.0K.
This valve has a maximum working pressure of 10 bar, with a maximum allowable pressure difference of 1 bar. It is rated for use at 16 bar and has a temperature resistance of up to 110 degrees Celsius. The thread size for this valve is M30X1.5mm. It is made from ABS and metal.
Reasons That May Attract You:
The RUZYY thermostatic radiator valve may be a wise choice for anyone looking for a room temperature sensing temperature lock valve with low hysteresis.
As it is made of durable ABS and metal materials, it can withstand a maximum working pressure of 10 bar and a pressure differential of up to 1 bar. Its M30X1.5mm thread also makes it easy to install.
You will appreciate its ability to withstand temperatures as high as 110 degree Celsius too. Overall considering its features, the RUZYY pneumatic temperature control valve could be a viable option.
Positive Aspects:
Good range of temperature adjustment
High-temperature resistance for reliability
Easy installation with standard M30X1.5mm threading
Made of tough ABS and metal for durability
---
2. KRONDO Straight Thermostatic Radiator Valve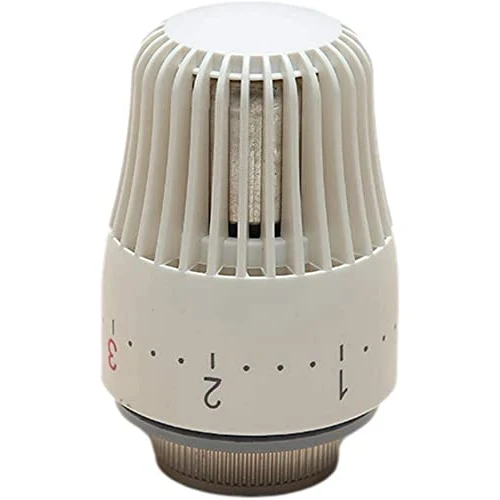 The KRONDO thermostatic smart radiator valve is made of bronze and regulates the temperature within a range of 6 to 28 degrees Celsius. ABS and PC engineering plastic are the materials of the actuator, whereas bronze constitutes the valve body.
There is a nominal pressure of 1 MPa. This valve is built to work with an M30X1.5 connector. It is capable of handling pressures of approximately 1 MPa.
Reasons That May Attract You:
The KRONDO straight thermostatic radiator valve is a high-quality product that is well-crafted and features a smooth surface with no burrs.
Due to its hydraulic sensitivity to bulb temperature, the temperature sensor element can accurately regulate the bulb's temperature in response to the surrounding environment.
Since the actuator is constructed from ABS and PC engineering plastic, it is resistant to corrosion and deterioration. The temperature regulation range of 6-28° C makes it ideal for use in various settings.
Positive Aspects:
Regulates temperature between 6 to 28 degrees Celsius
Smooth, burr-free surface
Hydraulic-sensitive temperature sensor element for accurate regulation
Corrosion-resistant ABS and PC engineering plastic actuators
Limitations:
After long-term use, the rubber gasket ages and may harden
---
3. Andifany Brass Thermostatic Radiator Valve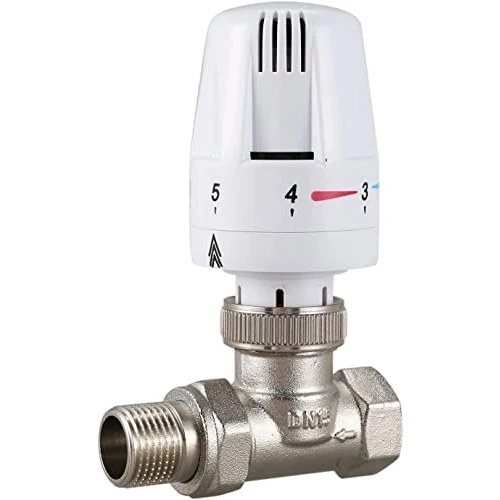 Andifany's thermostatic radiator valve consists of brass and has a good-quality plastic upper. This is a straight-type valve with automatic temperature control.
It has a working temperature range of -10 to +120 degrees Celsius and a pressure rating of 1.6Mpa. There is a G connector thread type on the valve.
Reasons That May Attract You:
The Andifany brass thermostatic radiator valve can be a good choice for several reasons. It is made of brass, which is a durable and long-lasting material. The valve is also straight, which makes it easy to install.
You will not need to constantly adjust the temperature because it has an automatic temperature control feature. It has a G connector, which makes it compatible with most plumbing systems.
Positive Aspects:
Made of brass and plastic for durability
Straight-type for easy installation
Automatic temperature control for convenience
G connector thread type for compatibility
Limitations:
The valve may malfunction after long use
---
4. SENRISE Automatic Temperature Control Valve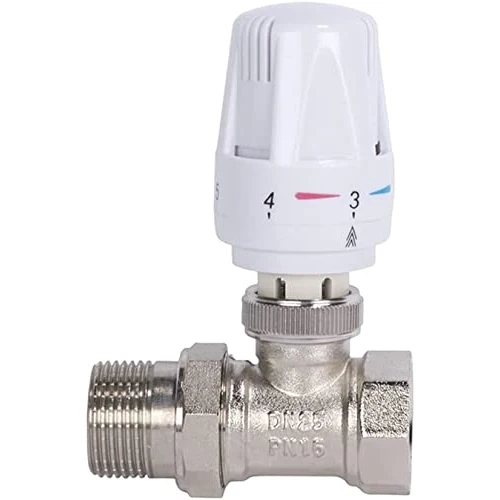 It is a copper-made thermostatic control valve that automatically locks the radiator to maintain a set temperature. This device is G-connector threaded and has a manual actuator.
The valve is suitable for use with water at normal temperatures. It is available in white and silver color.
Reasons That May Attract You:
Among the many reasons you may want to consider the SENRISE automatic temperature control valve is its ability to help regulate your home's temperature.
This can be extremely beneficial, especially if you live in an area where the temperature outside can fluctuate wildly throughout the day. As the temperature outside changes, the SENRISE valve will adjust itself accordingly to help keep the inside of your home at a comfortable temperature.
Another reason to consider this valve is its corrosion-resistant design. This means it will withstand the rigors of everyday use without succumbing to wear and tear.
It is also easy to install the SENRISE valve, so you will not have to spend hours figuring out how to do it. Using the standard 15mm pipe connection, it's easy to install. The flow direction is one-way, so you won't have to worry about it blocking your other plumbing fixtures.
Positive Aspects:
Copper construction for durability and corrosion resistance
Standard 15mm pipe connection for easy installation
One-way flow direction prevents blocking of other fixtures
Comes with a manual actuator
---
5. KWID 1/2″ Straight Thermostatic Radiator Valve
The KWID radiator valve is made of brass and has a silver or brass exterior finish. It has a G connector type outlet connection and a working temperature of -10℃ to +120℃. There is a maximum pressure limit of 1.6 MPa that it can withstand.
Reasons That May Attract You:
It features a brass construction that makes it tough and resistant to corrosion. This will ensure that it withstands the test of time and continues to look great. The silver and brass finish also gives it a sophisticated look that will complement your decor.
Its thermostatic feature is one of its most appealing features. This means that it will automatically adjust the hot water flow to maintain a consistent temperature.
This 1/2″ straight thermostatic radiator valve has a G connector outlet type. You can use it with most standard radiator systems. As it has a rating of 1.6Mpa, you can expect it to perform as expected.
Positive Aspects:
Thermostatic for consistent temperature control
Made of brass for durability
Elegant silver and brass finish
G connector outlet type is compatible with most standard radiator systems
It is capable of withstanding pressures up to 1.6 MPa
Corrosion-resistant for long-lasting performance
Limitations:
There is no instruction manual included
---
Comparison Chart of the Best Smart Radiator Valves
| | | | | |
| --- | --- | --- | --- | --- |
| Product Name | Material | Temperature | Pressure | Thread |
| RUZYY Thermostatic Radiator Valve | ABS & Metal | Adjustable temperature range of 5 to 32°C | 10bar maximum working pressure | M30X1.5mm |
| KRONDO Thermostatic Radiator Valve | Abs Plastic, Bronze | Temperature range: 6°C to 28°C | 1 mpa nominal pressure | M30X1.5 |
| Andifany Smart Radiator Thermostat | Brass, Plastic | Working temperature: -10℃-+120℃ | 1.6Mpa | G-Type |
| KWID Smart TRV | Brass, Plastic | Working temperature: -10℃-+120℃ | 1.6Mpa | G-Type |
| SENRISE Thermostatic Radiator Valve | Copper, Plastic | Normal Temperature | Low-pressure | G-Type |
Factors to Consider When Choosing the Best Thermostatic Radiator Valve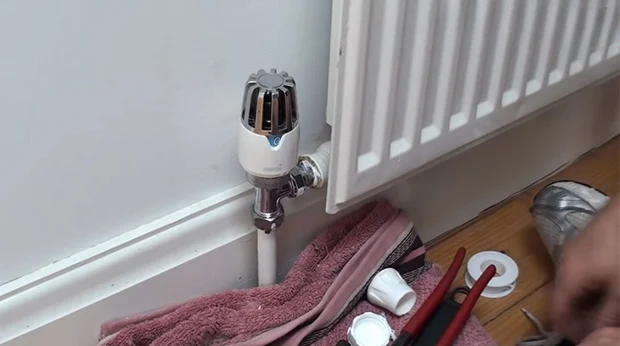 When you search for a thermostatic radiator valve, you will find many available options. This is why it is essential to understand what factors to consider before purchasing.
In this way, you will be able to ensure that you obtain the most suitable product for your needs. The following are some of the most important factors you should consider.
1. Material
During the passage of hot water through the radiator valve, temperatures can reach high levels. Because of this, the valve material should be one that can withstand high temperatures without succumbing to deterioration.
Water also causes rust and corrosion, so choose a valve made of corrosion-resistant material. Brass is one of the most popular materials for thermostatic valves because it is durable and corrosion-resistant.
Copper and bronze are also good choices. ABS plastic is a good choice for outer coverings since it is also corrosion-resistant and durable. There are a few different places you can look to find out what materials went into making TRV valves.
One option is to check the manufacturer's website. Many companies provide detailed information about the materials they use in their products.
One of the easiest and most convenient ways to determine the materials used is to refer to the product description. You may also find this information on the packaging of the product.
2. Connection Type
When selecting a thermostatic radiator valve, it is essential to consider the type of connection. You should choose a valve that matches your radiator's pipe connections and threading. This will ensure a tight seal and prevent any leaks.
Before purchasing a valve, you should know the radiator's connection and threading size. Most manufacturers provide this information on their websites or in their product manuals. Once you know the size of the connections and threads, you can narrow down your choices and select the most suitable valve for your needs.
3. Temperature Adjustment Range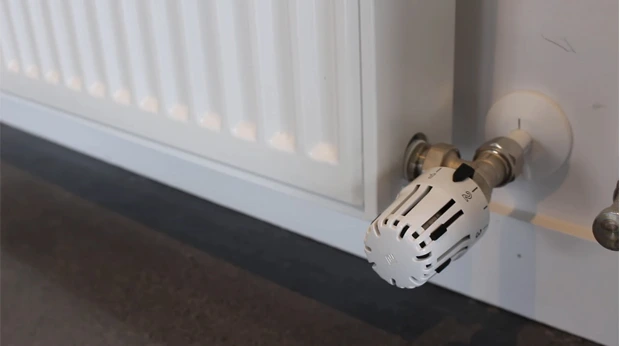 The numbers and temperatures of thermostatic radiator smart valves indicate the temperature to which the radiator will be set. The most common settings are 0, 1, 2, 3, 4, and 5. Setting the TRV to 0 will turn the smart thermostat radiator off, while setting it to 5 will set the temperature to 30°C.
In between these two extremes, each number corresponds to an increase of 5°C. For example, setting the TRV to 2 will set the temperature to 15°C. It is important to note that the exact temperatures may vary depending on the brand of TRV.
Generally, higher numbers correspond to higher temperatures. Frost-proofing features are present in high-quality TRVs, which help prevent radiators from freezing and cracking.
You'll usually see this in the "*" symbol. When you are going to be away from home for an extended period of time, you can set it to this position.
So, when choosing a thermostatic radiator valve, make sure to check the temperature adjustment range and select one that meets your needs. You can find the information in the product description or on the packaging.
4. Maximum Working Pressure
You also need to consider the maximum working pressure of the valve. The maximum working pressure refers to the amount of water pressure that the valve can handle.
In general, thermostatic valves do not require a high water flow rate. But it is beneficial to have a valve that can handle a higher flow rate in case the water pressure in your home suddenly increases.
A valve with a pressure rating of 10 bar or less is sufficient. Check the product description or packaging to find the valve's maximum working pressure.
5. Accuracy
Another important consideration is accuracy. The accuracy of a thermostatic radiator valve (TRV) indicates how well it can maintain the set temperature. To identify how accurate the thermostatic radiator valve is, you will need to look for the accuracy rating.
If you cannot locate the accuracy rating, you should read reviews of the product to determine its accuracy. Experienced users will be able to tell you how well the TRV maintains the set temperature.
Can Thermostatic Radiator Valves Be Repaired?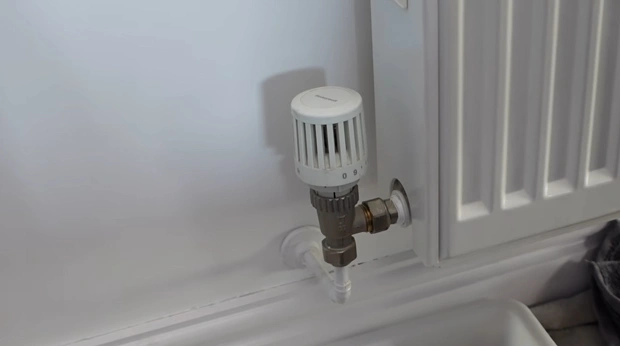 Yes, you can repair a thermostatic radiator valve (TRV) if it is not working properly. But not all TRV problems are repairable.
If your TRV has become stuck in the open or closed position, you may be able to repair it. To do this, you will need to disassemble the valve head. To loosen the screw on the head, turn the screw clockwise. Once the screw is loose, you can remove the head.
You will find a pin attached to the stem inside the head. This pin is what controls the opening and closing of the valve. If the pin is stuck, you can apply some lubricant to it. This will help loosen it up. Once the pin moves freely, you can reassemble the valve head and screw it back into place.
If you have a TRV that is leaking, there are a few things you can do to repair it. You can check the O-ring. The O-ring is a small rubber ring that helps to seal the connection between the valve and the pipe.
Whenever it becomes broken or worn, a replacement is necessary. Next, check the valve itself. If it is loose, tighten it with a wrench. If the valve is still leaking, you can add PTFE tape to the threads. This will facilitate the creation of a better seal.
But if your TRV is not responding to the thermostat or the valve is deteriorated beyond repair, you will need to replace it.
How Long Do Thermostatic Radiator Valves Last?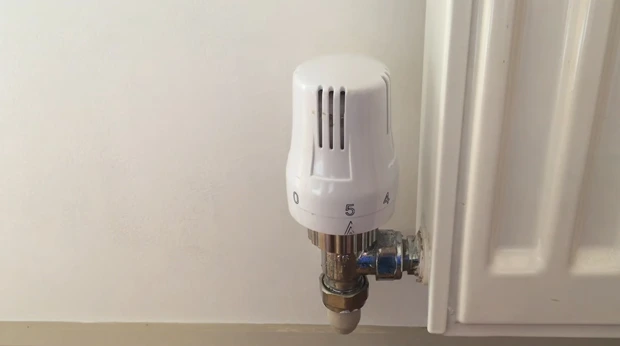 Typically, thermostatic radiator valves last for many years. They can last for decades if taken care of and maintained properly. But the lifespan of a TRV will depend on the quality of the product. Cheaper TRVs might only last for a few years, while more expensive ones could last for decades.
The life expectancy of a TRV will also depend on its usage frequency. If you use your TRV frequently, it will not last as long as it is used infrequently. Also, in areas with hard water, the TRV may have a shorter lifespan than it would in an area with soft water.
To extend the lifespan of your TRV, you should follow the manufacturer's instructions for care and maintenance. You should also regularly check the valve for leaks and damage. If you notice any damage, you should replace the valve immediately.
How Often Should You Check Thermostatic Radiator Valves?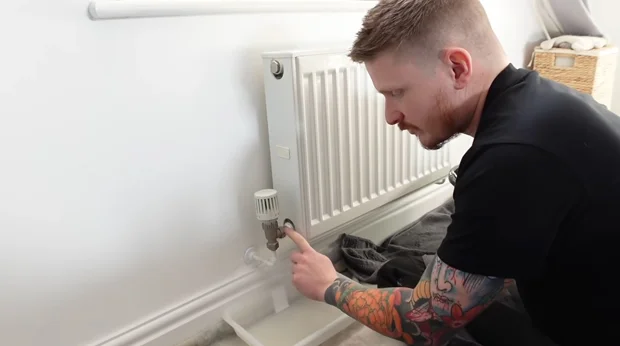 You should check your thermostatic radiator valves at least once a year. This will help you to identify any problems early on so that you can take care of them before they become more significant issues.
During your yearly check, you should look for any deterioration in the valves. You should also check for leaks and ensure the valves are still working properly. If you notice any problems, you should take care of them immediately.
It is also important to confirm that the TRV sensor is still functioning. For this purpose, you can detach the TRV and install it in a gallon.
Installing the TRV in a gallon requires setting up the pipe threading on the gallon. After that, you can install the TRV. Fill the gallon with water and turn the TRV on.
Make sure you place a second container under the gallon to collect any water that may spill. After turning it on, place a portable heater near the TRV, and set the temperature accordingly.
In the case of a properly functioning TRV, the valve will close when the temperature reaches around 30 degrees Celsius.
Generally, if the valve responds well to the temperature, it indicates that the sensor is functioning correctly, and there is no need to replace the device. If not, then you need to take out the device and put it in a new one.
Stay in Comfortable Warmth With Thermostatic Radiator Valve
It is clear why you need to install a thermostatic valve in your radiator. You can feel the smart heating and comfort in your home. There is no need to turn the knob every time.
Be sure to keep in mind the factors mentioned earlier when purchasing a thermostatic valve. Always go for a reputed brand to get the best quality product.
All of the products we have reviewed are of excellent quality and offer excellent value for money. Depending on your needs, you may choose any of these products.
Make sure that your thermostatic radiator valves undergo regular inspection and maintenance. Using the best thermostatic radiator valves will provide you with many years of comfortable warmth. Enjoy the benefits of a quality TRV in your home.