Last Updated on May 16, 2023
If you live in an area with hard water, you know the importance of having a good water softener. Hard water can cause all sorts of problems in your home, from clogged pipes to dry skin and hair. Your water softener's valves play a crucial role in its overall operation.
When it comes to regulating the flow of water, backwashing the system, or bypassing it completely, valves are what make it all possible. For this reason, it is so important to install the best water softener valves to maximize the efficiency of your water softener.
Avoid inferior valves, which may leak or prove insufficient to function properly. It is important that you understand which valves are considered to be the most suitable for your water softener. For this reason, it is a good idea to compare different types of valves and read reviews.
What Valves Are Available for Water Softeners?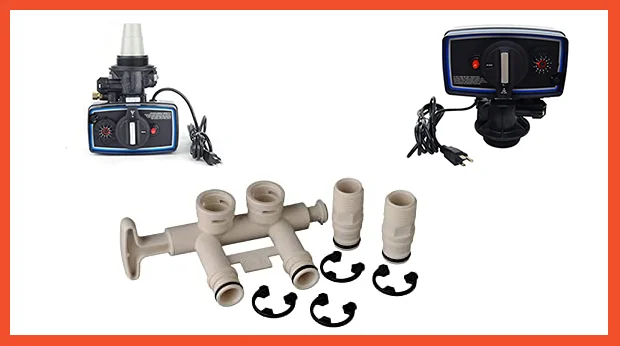 There are two main types of valves used in water softeners, namely, a control valve and a bypass valve. Let's take a closer look at each type:
1. Control Valve or Head Valve:
A water softener's control valve is the main or head valve. As the name suggests, it is responsible for regulating the flow of water into the softener tank. This ensures that the correct amount of water is used to soften the water.
The control valve assists in backwashing the system when necessary. Regeneration of the water softener also requires the control valve.
A control valve is typically an electromechanical device that controls the flow of water using a timer. It is usually located at the top of the resin tank. By regulating the flow of water, the control valve helps to ensure that your water softener functions properly.
2. Bypass Valve:
A bypass valve is used to divert water around the softener tank. The advantage of having a bypass valve is that it allows you to change the settings on your water softener without shutting down the main water system supply.
Your softener's bypass valve is generally located near where the water pipes are connected to the softener tank.
When Would You Need to Use a Bypass Valve?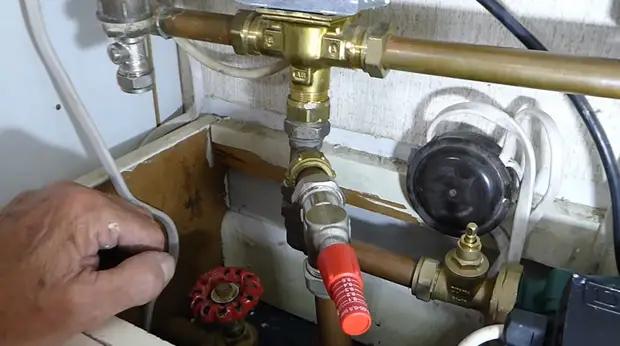 You might need to use your softener's bypass valve for several reasons. For example, if you need to service your water softener, you can use the bypass valve to route water around the softener tank so that you can continue to have access to water.
It is not necessary to use softened water for gardening, landscaping, or yard work. In this case, the bypass valve can be used to send hard water straight to your outdoor taps. This saves you from having to waste any softened water.
While you are on vacation, you may also wish to use the bypass valve so that your water softener does not continue to consume salt and energy.
Bypass valves can also be used when washing a vehicle. Softening water is only needed for indoor use to protect your plumbing fixtures and appliances against scale buildup and save you on detergent.
For outdoor use, you do not need to use softened water. The bypass valve helps you to save on salt usage, water, and energy in this case.
Top 5 Water Softener Control Valve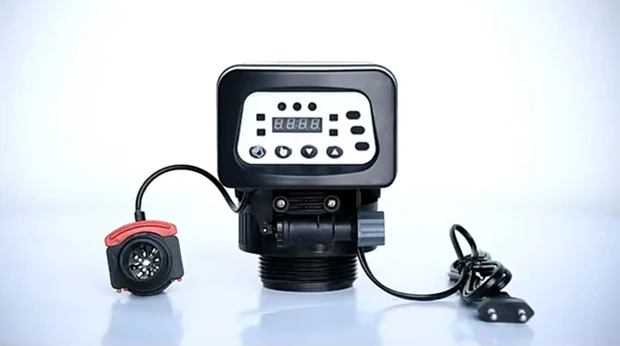 As you know, it is essential to use a high-quality control/head valve for your water softener. But with all the different brands and models on the market, it can be confusing to decide which one is right for you.
Below are some of the water softener control valves that are of good quality and may be worth consideration. Check out the product's specifications, features, and limitations to see which one will be the right fit for your needs.
➤ Kaibrite Water Softener Electronic Timer Control Valve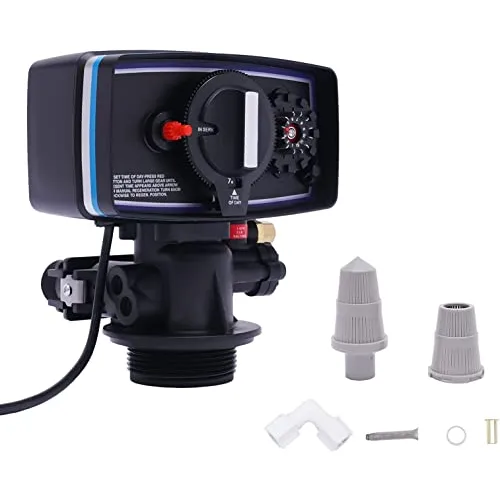 Kaibrite's timer-controlled valve makes it easy to control when your water softener system regenerates. The valve has a voltage of 110V and a working pressure of 0.1-0.6Mpa, making it suitable for use in a wide range of settings.
It has a power outage of 3W and can handle flows up to 2T/H. It also features an inlet and outlet size of 1in or 3/4in, making it compatible with many different types of softeners. The 0-40°C temperature range makes it suitable for a variety of climates.
Reasons That May Attract You:
Using this water softener electronic timer control valve can help to save on water and energy consumption and make it easier to operate and maintain your softener.
Noryl material is used to manufacture the valve body, meaning that it will last a long time, even with regular use. This valve is also easy to install, so you can get started using it right away.
The 12-day timer means you can set it and forget it, and the 5600-time clock control valve ensures that your water softener will work properly and efficiently.
Positive Aspects:
Timer-controlled for easy operation
Helps reduce the consumption of water and energy
Made from durable Noryl material
5600-time clock control valve for efficiency
Limitations:
Some water softener models may not be compatible
---
➤ Loyalheartdy Automatic Water Softener Control Valve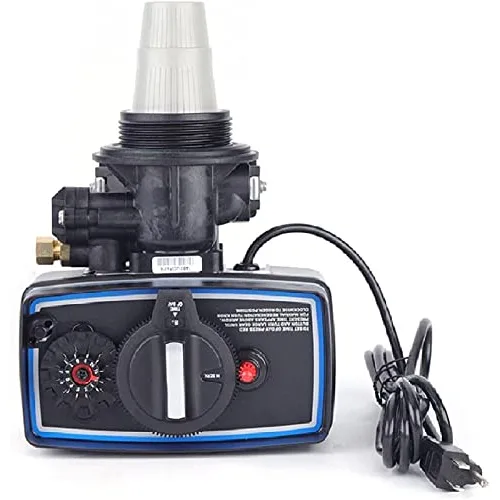 The Loyalheartdy valve is made from high-quality ABS and Noryl materials, making it durable and resistant to deterioration.
It is a time control valve with a flow rate of up to two tons per hour, making it well suited for use in domestic whole-house water softening systems and small boiler water softening equipment systems.
Reasons That May Attract You:
This valve is a reliable and convenient option for controlling the water flow of your softener resin tank. The material used in this product (Noryl) is corrosion-resistant.
Its easy-to-operate control panel with a manual knob and time indicator arrow makes regulating water flow an easy process. Due to its automatic backwash function, it is one of the lowest maintenance options available.
Positive Aspects:
The ABS and Noryl materials are high-quality
Durable and resistant to deterioration
Two-ton flow rate time control valve
Easy-to-operate control panel
Limitations:
Needs a bypass valve or yoke for installation
---
➤ INTBUYING Time Clock Control Water Softener Valve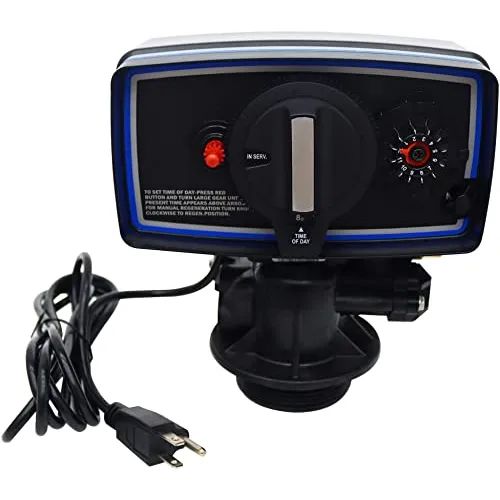 INTBUYING's valve offers you time clock control over your water softener, allowing you to automate the process and save time. This product has a 110 voltage and a minimum water pressure of 25 psi.
It can handle a large amount of water, with a rated flow of 2T/H. The operating weight of the valve is 100 kilograms.
Reasons That May Attract You:
It is constructed from Noryl material, an extremely durable and practical material that has a long lifetime. The valve body is constructed from engineering plastic, which makes it durable and sturdy.
You can remain convinced that this valve will perform to your expectations. This valve is very simple to install and use, and it is an essential component of your water softener system. It is suitable for tanks with a diameter ranging from 9 inches to 11 inches and can be used in many industries.
Using this valve, you will be able to enjoy softened water at home with ease. If you are looking for an automated water softening solution that is both reliable and long-lasting, this time clock control water softener valve can be worth considering.
Positive Aspects:
Time clock control for easy automation
Easy to install and operate
Durable and practical Noryl material construction
Large flow rate of 2T/H
Limitations:
The inlet and outlet are too close together to work with some fittings
---
Best Water Softener Bypass Valve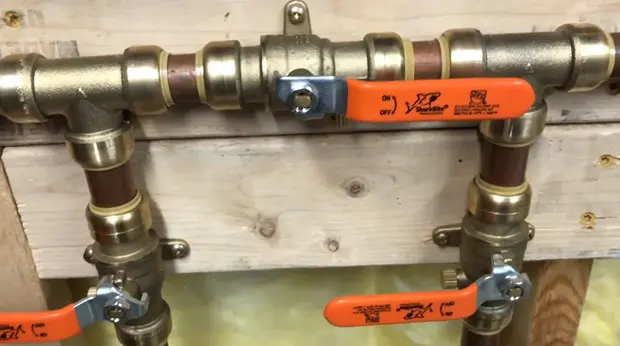 If you are considering purchasing high-quality bypass valves, the following items may be of interest to you. These valves are durable, easy to install and operate and offer good value. In order to determine which product is most suitable for you, you can evaluate the specifications, positive aspects, and limitations of each product.
➤ Whirlpool Water Softener Standard Bypass Valve Assembly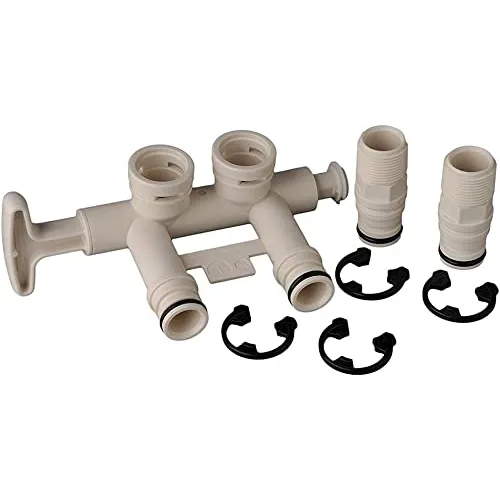 The size of this bypass valve assembly is 3/4 inch, which is a standard size. Four black clips and two installation adaptors with attached o-rings are included in the bypass valve assembly kit.
There are standard 1″ male pipe threads on the plumbing adaptor, so they can be attached to nearly any standard pipe.
Reasons That May Attract You:
One of the great things about this bypass valve is that it will fit most major brands' standard valve water softeners. No matter what brand of water-softening system you have, this valve will likely be a compatible replacement part.
If your old valve is starting to leak or isn't working as well as it used to, then replacing it with this new one is a great idea. This product is easy to install, so you do not need to hire a professional to do it for you. As this valve is original equipment, you can expect that it is a reliable and durable product.
Positive Aspects:
Fits most major brands of water softeners
Easy to install
All necessary clips, adaptors, and O-rings are included
Original equipment, so it is reliable and durable
Limitations:
May not fit some non-standard or older model water softeners
---
➤ Soft Water Supply 1″ Water Softener Bypass Valve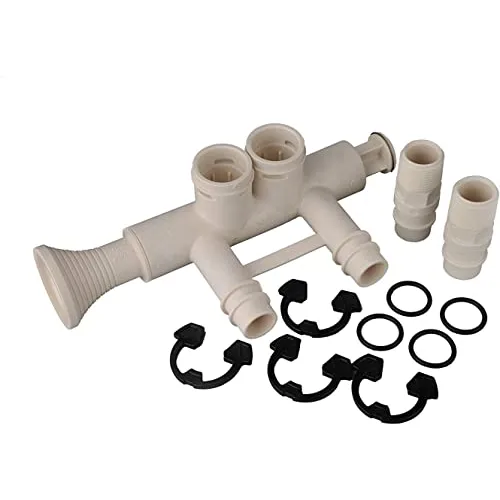 This product is a high-flow bypass valve kit that is designed to be used with water softeners. Due to its 1-inch size, it is well-suited for high-flow applications.
You will receive two adapters, four clips, and four o-rings with the kit, enabling you to install it easily. It is made with high-quality materials, so you can be confident that it will provide you with a long-term solution.
Reasons That May Attract You:
You can use this bypass valve to connect your water softener to your home's water supply. Due to the valve's compatibility with many top-rated brands, you can expect it to fit easily onto your water softener.
This 1″ water softener bypass valve is a genuine manufacturer's replacement part, ensuring that it will perform as expected and have a long service life.
Positive Aspects:
The 1″ size is perfect for high-flow applications
Comes with adapters, clips, and o-rings for easy installation
Made with high-quality materials for durability
Compatible with a number of top brands
Genuine manufacturer's replacement part
Limitations:
Not fit the smaller-sized model
Work only if your valve has eight screws
---
Comparison Chart of the Water Softener Valve
| | | | |
| --- | --- | --- | --- |
| Product Name | Valve Type | Material | Time Controlled |
| Kaibrite Water Softener Valve | Control/Head | Noryl | Yes |
| LOYALHEARTDY Water Softener Valve | Control/Head | Noryl | Yes |
| INTBUYING Water Softener Valve | Control/Head | Noryl | Yes |
| Whirlpool Water Softener Valve | Bypass | Plastic | No |
| Soft Water Supply Water Softener Valve | Bypass | Plastic | No |
Factors to Consider When Purchasing the Best Water Softener Valves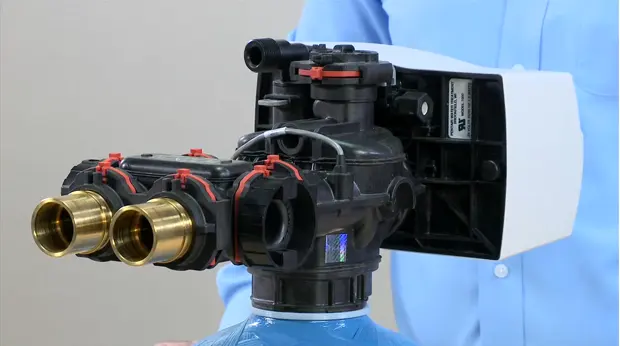 When purchasing a water softener valve, there are several factors that you need to take into consideration. You should not only choose a high-quality product but also check its compatibility with your water softener.
Knowing what factors to consider will help you to narrow down your choices and find the best water softener valve for your needs. Consider the following factors when shopping for a water softener valve:
1. Size
One of the most important considerations is the size of the valve. You should ensure that the valve you choose is the right size for your water softener. The threads on the valve should also be the same size as the ports on your water softener. This will ensure a tight seal and prevent any leaks.
You should consult your water softener's manual to identify the right size for your needs. Once you have identified those dimensions, carefully read the product descriptions to locate a valve that matches them.
This consideration is important for both control valves and bypass valves. Don't forget to check the size specifications before purchasing. If the product does not fit your water softener, you will not be able to use it.
2. Material
The material from which the valve is manufactured will have an impact on its durability and longevity. It is important to choose a valve that is made from high-quality materials that can withstand constant use.
Noryl is considered to be one of the best materials for water softener valves since it is strong and does not corrode easily. In the product description, you can find information about the materials used to construct the valve. You may also wish to examine the user reviews, which will give you an idea of the valve's longevity.
3. Voltage
If you decide to purchase an electronic, timer-controlled water softener head valve, be sure to check the voltage rating to ensure that it is compatible with your softener.
Generally speaking, most water softeners will require a 110-volt valve. Some commercial models may require a higher voltage. You need to check out the specifications of your water softener to ensure that you purchase the right valve.
4. Flow Rate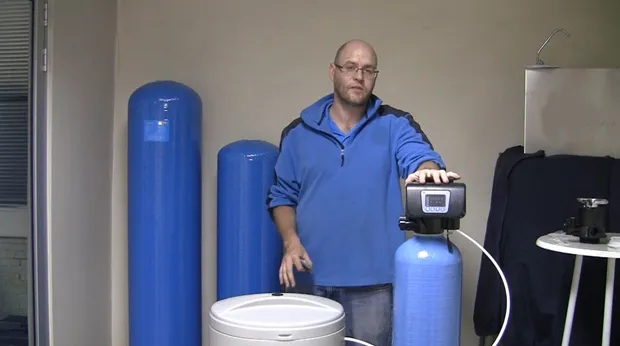 You should also consider the flow rate of the head valve. The flow rate is the amount of water that can pass through the valve in a given period of time. If you have a high demand for softened water, a higher flow rate will allow more water to flow through the system.
A higher flow rate will also result in the regeneration cycle of more resin beads requiring more brine, which will increase the operating costs. This is why it is important to take into consideration both the flow rate and the amount of water that you use when selecting a valve.
For most home water softener systems, two tons per hour is considered to be a standard flow rate. In the product specifications, you will find information regarding the flow rate.
5. Working Pressure
The working pressure is the amount of water pressure that the valve can withstand. Make sure the valve you purchase is capable of handling the water pressure in your household.
Choosing a head valve with 0.1-0.6Mpa will be sufficient for most home water softeners. Check the product description to determine what water pressure the product has. In this way, you will be able to choose the valve that is appropriate for your needs.
6. Working Temperature
You should also consider the working temperature when selecting a water softener valve. This is particularly important in areas with extreme temperatures.
You need to ensure that the valve can withstand both high and low temperatures. The working temperature is usually listed in the product specification. Generally, a water softener valve with 0-40°C will be suitable for most homes.
7. Cord Length
When choosing an electronic valve, you should also consider the cord length. It is important to consider this factor because it determines how far away the water softener valves can be placed from the power outlet.
A long cord will allow you to place the water softener valves in any location that is convenient for you. If you have a short cord, you will be limited to placing the water softener valves close to the power outlet. Ensure the cord is long enough to reach the outlet on your water softener.
8. Included Items
When purchasing a bypass valve, it is important to verify what is included in the package. Make sure that the valve comes with all of the necessary parts and accessories for installation.
Normally, the bypass valve should come with black clips, adaptors, and o-rings. If it does not, you will need to purchase these items separately. So, check the product description to see what items are included.
At What Time Should the Valve for the Water Softener Regeneration Be Set?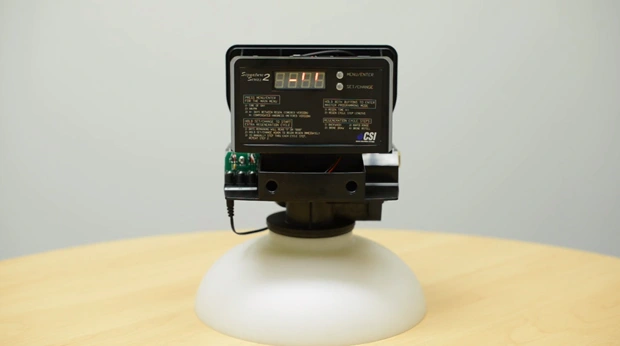 It is best to set the valve for regeneration during a time when water usage is typically low. This could be late at night or early in the morning. By regenerating during these times, you can help to avoid disruptions in your water supply.
It's also important to make sure that the valve is set for an adequate amount of time. Depending on the size of your water softener, this could be anywhere from two to four hours.
According to most expert advice, you may wish to set the timer on the valve for 2 a.m. to initiate the regeneration process. This will help to ensure that the process is completed before you need to use water in the morning.
Regarding frequency, it is typically recommended that you regenerate the water softener every two to six days, depending on your water usage.
How Often Should the Water Softener Valve Be Replaced?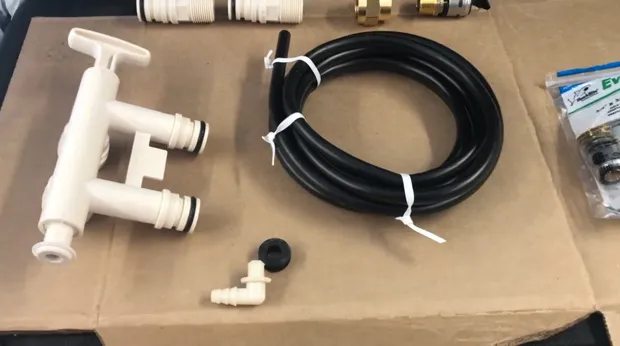 The frequency with which you need to replace the valve on your water softener will depend on a number of factors. These include the type of valve, the quality of the valve, how often it is used, and how well it is maintained.
If a valve is of good quality and properly maintained, it can last for many years. If you notice any leaks, or if the valve does not function as well as it once did, it is time to replace it.
Smoothly Run Your Water Softener With the Quality Valve
As you now know a great deal about water softener valves, it is clear why you need to select high-quality valves for your dual tank water softener. Be sure to consider the factors discussed in this article to ensure that you choose a valve that will be durable and effective.
Remember, the goal is to find a valve that meets your specific needs and lasts for many years. All of the products listed in this article would be wise choices for your water softener.
You can compare the different features, pros, and cons of each product, and ultimately, we hope that you will find the best water softener valves for your needs.