Last Updated on May 7, 2023
Are you in search of a reliable sump pump discharge hose for your home? A quality discharge hose for a sump pump is essential for effective water drainage and can provide years of worry-free performance.
We understand how important it is to find the right product, so we've put together a comprehensive guide to help you make an informed decision when choosing the best sump pump discharge hose.
The hose should have quality material handling various temperature ranges and discharge water pressure. It should also be anti-kinking and corrosion-resistant to last a long time. Other things must be considered, such as its diameter, length, flexibility and compatibility.
This article will examine the top 5 sump pump discharge hoses available on the market, their features, pros, and cons. To make the process easier, a buying guide is available for your convenience.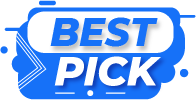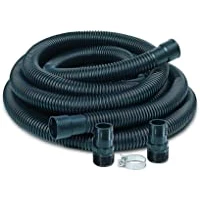 Little Giant SPDK Sump Pump Discharge Hose Kit
It eliminates the need to cut and splice hose
● Material: Plastic
● Color: Black
● Hose Length: 24 Ft
● Weight: 2 Pounds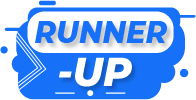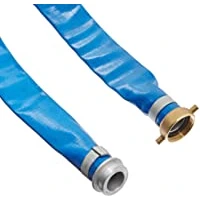 Apache Sump Pump Discharge Hose Fittings
Aluminum pin lug fittings make for a secure connection
● Material: PVC
● Color: Blue
● Hose Length: 50 Ft
● Weight: 8 Pounds
Here Are Reviews of the 5 Best Sump Pump Discharge Hoses
A discharge hose for the sump pump is essential to a home's plumbing system, providing the means to safely and effectively move water away from the house. We've rounded up the top five models today so you can make the right choice for your home.
1. Little Giant SPDK Sump Pump Discharge Hose Kit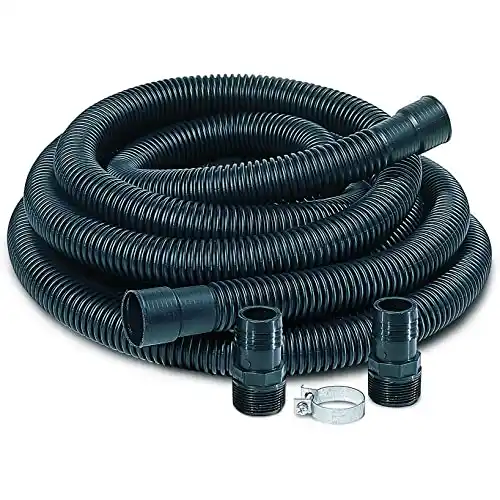 The Little Giant SPDK hose kit can be the best solution for those looking to discharge water from a basement sump pit. This easy-to-use set includes 1-1/4″ and 1-1/2″ NPT adapters, steel clamps that ensure secure connections, plus a 24′ polyethylene corrugated hose.
Durable Materials and Construction
The Little Giant SPDK sump pump discharge hose kit is made from heavy-duty plastic that won't corrode under water or chemicals. The included steel hose clamps ensure that all components remain securely connected no matter how much pressure is applied.
Moreover, the corrugated polyethylene hose is designed for maximum flexibility, allowing it to fit tight spaces without reducing its effectiveness.
Easy Installation
Installing the Little Giant SPDK sump pump hose kit is a quick and straightforward process, making it easy for even novice users to install in minutes. The kit includes everything necessary for fast assembly and connection, including 1-1/4″ and 1-1/2″ NPT adapters and solid hose clamps.
Also, the flexible design of the corrugated polyethylene hose allows it to be fitted in tight spaces without compromising its effectiveness.
Heavy Duty Performance
The Little Giant 599303 discharge hose set is designed to handle high flow rates while still providing maximum durability and performance you can count on time after time.
Heavy-duty plastic won't corrode or break down due to exposure to solvents or water, while steel hose clamps provide secure connections between components.
And the 24′ length of the corrugated polyethylene hose ensures maximum reach when needed to get rid of excess water from your basement sump pit efficiently and effectively.
Lightweight Design
This versatility doesn't come at the cost of convenience. Despite its sturdy construction materials, the Little Giant discharge hose only weighs 2 pounds. This makes it easy to transport wherever you need it. You'll never have to worry about lugging around a heavy piece of equipment again.
Versatile Compatibility
Finally, the brand is known for its sump pump hose that isn't limited by compatibility with its two different adapters (1-1/4" and 1-1/2" NPT). You can get set up quickly and easily with the referred to sump pumps.
Positive Things:
Includes both 1-1/4″ and 1-1/2″ NPT adapters
Ideal for discharging water out of a basement sump pit
It fits most sumps with 1-1/4 inch and 1-1/2 inch FNPT discharges
Kit includes a 24′ corrugated polyethylene hose
Steel hose clamps are included for secure connections
Insufficiencies:
Utility pumps designed for garden hoses may not work with them.
---
2. Superior Pump Lay Flat Discharge Hose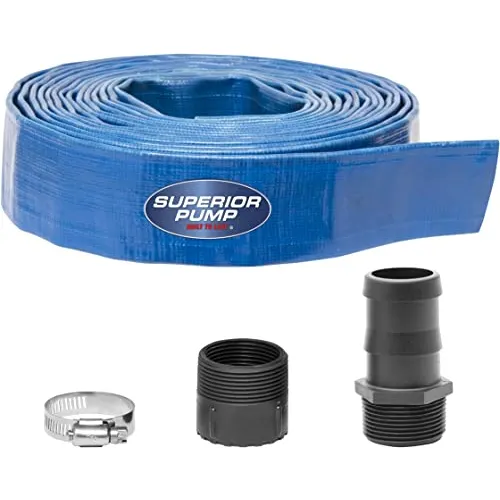 Ensure reliable water removal with the Superior Pump discharge hose. No tools are required to install this 25-foot PVC hose at the best price. Its accompanying clamps and couplings provide security. Besides being lightweight, it's easy to transport and keep when not in use.
Durable PVC Construction
The Superior Pump outlet hose is made of a durable PVC material that ensures long-lasting performance. With a weight of only 3.78 pounds, this hose is strong enough to withstand regular wear and tear without compromising its strength or integrity.
Also, the UV-resistant construction protects against sun damage, ensuring the hose keeps its color no matter how frequently it's used outdoors.
Easy To Install & Use
Installation of the Superior Pump lay flat discharge hose requires no special tools or equipment. Connect it to your sump or utility pump with the clamps and couplings for an effective, easy connection every time.
The 25-foot length gives you plenty of reach when trying to move water away from your setup, while the lightweight construction allows for easy rolling up and transport when not in use.
Versatile Connections
The Superior Pump 99621 discharge hose includes internal and external fittings for added versatility when connecting it to different types of pumps.
Internal fittings provide a secure connection inside the pipe, while external fittings are designed for attaching multiple hoses for more extended lengths when needed. The clamps also ensure secure connections between each coupling and pipe, so you can trust that your setup won't fail during operation.
Variety Of Uses
This hose is suitable for various applications, including draining pools, emptying hot tubs, removing flood water from basements, draining ponds, irrigating gardens, filling tanks on boats or RVs and more.
Great Value of Money
The Superior Pump 99621 hose is affordable, and its multi-purpose construction makes it a great value. This hose will do the job if you need to empty your pool or irrigate your garden. Plus, its lightweight design ensures it can be used in any situation with minimal effort.
Positive Things:
You don't need to wait for any tools to install it
Compatible with most sump and utility pump models
25-foot discharge hose gives you plenty of reaches
Hose clamps and couplings keep everything tightly connected
The easy roll-up design makes transport and storage a breeze
Insufficiencies:
It may kink or bend if not handled properly during use.
---
3. Apache Sump Pump Discharge Hose Fittings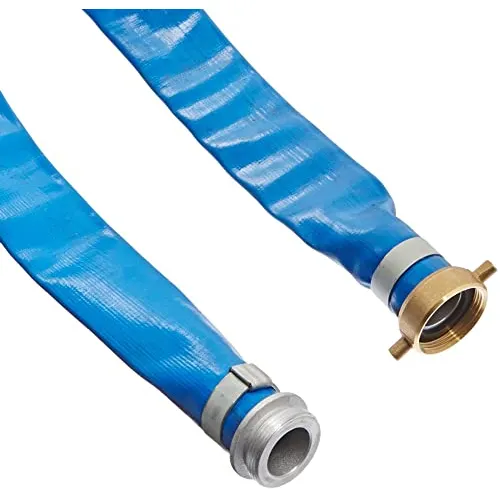 With Apache discharge hose fittings, you can connect your pumping system and outlet securely and reliably. Its durable PVC construction, reinforced with aluminum short shanks, makes it robust and resistant to oil, grease, acids & corrosives. That's why we put it as a runner-up.
Robust Construction for Maximum Durability
The Apache sump pump hose fittings are designed with durability in mind. The heavy-duty construction and use of high-grade PVC ensure that these hoses can withstand even the most challenging conditions.
Its aluminum short shanks are reinforced by Band-It clamps, providing extra strength and reliability in any situation. This makes the Apache 98138015 sump pump tubing fittings an excellent choice for both domestic and industrial applications.
Resistant to a Variety of Substances
The Apache discharge hose fittings strongly resist various substances, such as oils, grease, acids, and chemicals. This makes them ideal for applications that involve harsh and corrosive materials, as they will not be affected and can remain securely connected regardless of what is passing through them.
Easy Storage Solutions
The Apache sump pump discharge hose fittings feature flat roll-up designs, which make them easy to store away when not in use without taking up too much space or making a mess.
This makes it quick and simple to deploy the hoses whenever you need them without spending extra time on preparation or setup.
Standard Outside Diameter
This hose fitting has a nominal outside diameter of 1.61 inches, allowing them to connect easily with other pipes or accessories without buying additional components or adapters.
Versatile Hose Lengths Available
The Apache discharge hose for sump pump fittings is also available in various lengths, ranging from 25 feet up to 50 feet, depending on your specific requirements or preferences.
Positive Things:
General build is good and looks decent
Easy to store due to flat roll-up design
Durable aluminum short shanks reinforced by Band-It clamps
Resistant to various substances, including oils, grease, acids, and chemicals
The standard outside diameter of 1.61 inches
Insufficiencies:
The material is somewhat stiff plastic and prone to cracking.
---
4. Flotec Discharge Hose for Sump Pump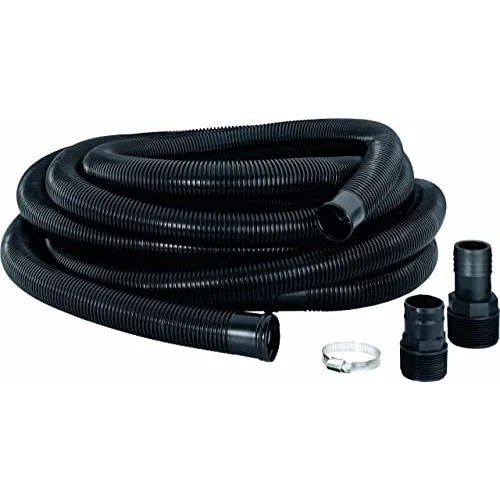 With Flotec's discharge hose, you can quickly and effectively discharge sump pump water. This multipurpose solution is suitable for emergency or permanent installation. The sturdy black plastic hose pipe has a high-impact NPT barbed adapter and is 24 feet long.
Durable Plastic Construction
The Flotec hose for the sump pump is made from high-grade plastic material that ensures maximum durability. Its solid construction ensures it can withstand harsh weather conditions without any issues, making it ideal for temporary and long-term use.
Also, the hose is designed to resist punctures and other damages, ensuring reliability even in extreme circumstances.
Universal Fit
The Flotec discharge hose has been designed to provide compatibility with both 1-1/4″ and 1-1/2″ sumps, allowing users to get the most out of their investment.
Installation is also fast and easy due to its hose clamp system, which requires minimal effort when setting up or replacing the pump's discharge hose.
High Impact NPT Adapters
The NPT adapters included with the Flotec Discharge Hose are made from high-impact materials that ensure reliable performance during operation and are designed to work with different types of sump pump models without any issues.
Weight & Length
This Flotec discharge hose for the sump pump weighs only 2.04 pounds, making it incredibly lightweight compared to other hoses today, making it easy to transport whenever needed for emergency use or maintenance tasks.
The length of 24 feet also allows for a wide range of coverage, making it suitable for many applications, including pedestal or submersible sump pumps providing reliable results each time you need it most.
Affordable & Easy Installation
One of the top features of this product is its affordability and ease of installation. Due to its quick connect system, this takes minimal effort, making it suitable for novice and experienced users.
All necessary components, like clamps and adapters, are already in the package, so you don't have to worry about anything while setting it up or replacing it, so you don't have to guess when you set it up.
Positive Things:
Universal fit for both 1-1/4″ and 1-1/2″ sizes
Suitable for pedestal and submersible sump pumps
Ready to install for emergency or permanent use
It comes with a hose clamp and high-impact NPT barbed adapters
24′ length of hose for versatile use
Insufficiencies:
It may not be suitable for pumps with non-standard hose outlet sizes.
---
5. VEVOR Discharge Hose Sump Pump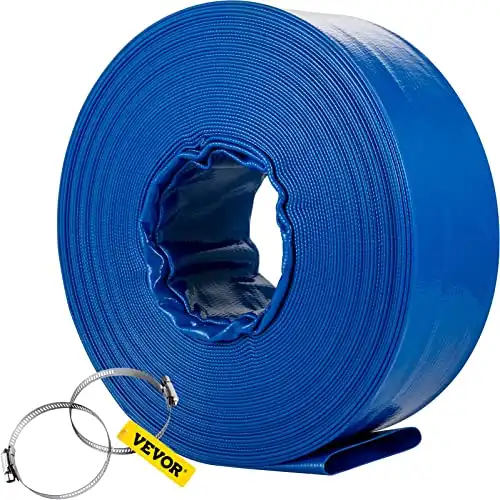 The VEVOR discharge hose for the sump pump provides a steadfast and reliable solution for any pool or fluid pump need. This all-in-one discharge hose is built to endure extreme conditions with its corrosion resistance, heavy-duty PVC construction, and easy installation process.
Heavy-Duty PVC Construction
The VEVOR sump pump hose is made from heavy-duty PVC compound, ensuring its long life and durability. This high-quality construction also makes it resistant to corrosion, guaranteeing its reliability even in tough conditions.
This ensures you don't need to worry about buying replacements or dealing with rusting issues anytime soon.
Various Discharge Hose Sizes
The VEVOR discharge hose comes in five different sizes, so you can choose the one that best fits your requirements. Whether you are looking for a small hose or one up to 105 feet in length, there's an option available for everyone's needs.
Weatherproof and Burst-Proof
The VEVOR backwash hose 1.5″ x 105′ for the sump pump is designed with extreme weather resistance in mind so that it can withstand even harsh environments without any damage or leakage.
It has been tested against numerous variations of temperature and pressure, ensuring optimal performance while using it no matter what external conditions prevail at the time of use.
This rugged sump pump has also been tested against high pressure ratings up to 60 psi, providing even more security against potentially hazardous scenarios like bursting hoses, etc.
Easy Installation & Use
The VEVOR discharge hose features quick installation due to its clamps, allowing easy setup within a short time. All components fit together perfectly, creating a tight seal when appropriately connected so water will not leak through.
This makes maintenance simple since everything can be taken apart quickly if needed. Also, it is lightweight (only 13 pounds), making it extremely easy to move around and store away when unused.
Versatile Reliability For All Needs
This incredible sump pump works great with swimming pools, filter cleanouts, and fluid pumps. Whatever job you have, whether draining a pond or cleaning out a septic tank, the VEVOR Discharge Hose Sump Pump has got you covered.
Positive Things:
Heavy-duty PVC construction for durability and corrosion resistance
Various discharge hose sizes are available
Weather-proof and burst-proof for use in harsh conditions
Easy to install and use with the included clamps
It's versatile for swimming pools, filter clean-outs, and fluid pumps
Insufficiencies:
Its working pressure limit of 60 psi may not be sufficient for some applications
---
Comparison Table of the Best Sump Pump Hose
| | | | | |
| --- | --- | --- | --- | --- |
| Product | Material | Color | Hose Length | Weight |
| Little Giant | Plastic | Black | 24 Ft | 2 Pounds |
| Superior Pump | PVC | Blue | 25 Ft | 3.78 Pounds |
| Apache | PVC | Blue | 50 Ft | 8 Pounds |
| Flotec | Plastic | Black | 24 Ft | 2.04 Pounds |
| VEVOR | Fabric | Blue | 105 Ft | 13 Pounds |
How to Choose the Best Hose For Sump Pumps?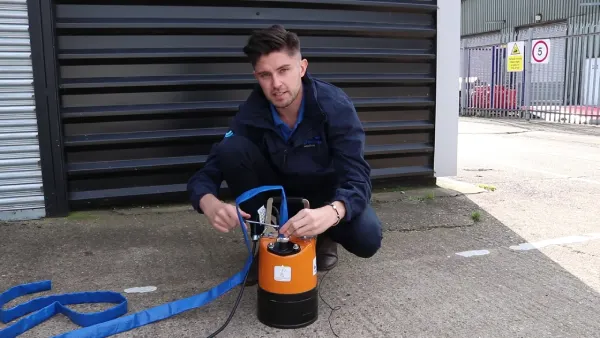 When choosing a sump pump hose, make sure you take the time to look at all the options. There are a variety of materials, sizes, and shapes that can be used in sump pump hoses, and knowing which one will work perfectly for your individual needs is essential.
Here are some essential factors to consider when selecting the proper discharge hose for a sump pump:
Diameter
The hose's diameter should match the outlet size of the sump pump for optimal water flow and efficient operation.
If the diameter of the hose is too small for the pump, it can strain the motor and lead to reduced performance, while if it is too large, it can cause turbulence and reduce water pressure.
To ensure optimal performance, make sure that you select a hose with an inner diameter that matches or slightly exceeds your sump pump's outlet size.
Length
The length of the discharge hose also needs to be considered when selecting one for use with a sump pump. The ideal length will depend on where you want to discharge water. You will need a longer hose if you intend to do so far away from your sump tank or have obstacles between them.
But, an excessively long hose can reduce water flow and efficiency, so try to find a balance between being able to reach your desired destination and keeping the length short enough to maintain optimal flow rate.
Material
Without deteriorating over time, the material must be durable enough to withstand whatever liquids are being pumped and any external elements, such as UV light or extreme temperatures.
PVC is often used in hoses due to its corrosion-resistant properties, but other materials are available depending on what kind of chemicals may be present in the liquid being pumped.
Flexibility
A flexible hose makes installation easier by bending around corners or obstacles without kinking or twisting, which could impede water flow or even damage your equipment.
Look for hoses constructed with reinforced materials such as nylon or polyester braiding, ensuring they remain flexible yet strong enough not to split during operation.
Anti-kink Technology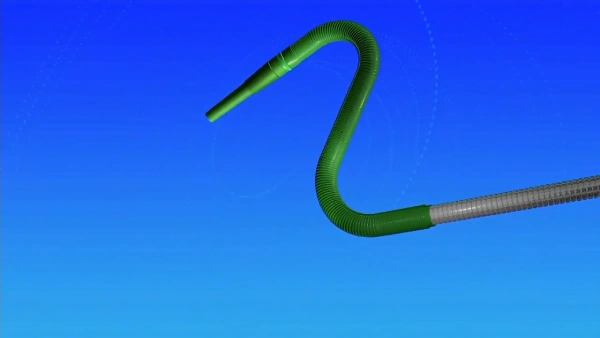 Some hoses come equipped with anti-kink technology, which helps prevent them from bending during operation and restricts turbulence within their walls which could restrict water flow and reduce efficiency over time.
This technology usually involves high-density interlocking spirals within the tube walls, which help maintain shape even when bent or twisted in tight spaces.
Look out for this feature when purchasing your discharge hose to ensure consistent performance every time you use it.
Temperature Range
When selecting sump pump discharge hoses, the pumped water's temperature range should also be considered. Selecting materials that can withstand extreme weather conditions and temperatures is crucial for using an outdoor sump pump.
Low-grade materials may not be able to withstand extreme temperatures in both summer and winter, leading to an increased risk of cracks or leaks in the system.
Discharge Pressure
When selecting a discharge hose for a sump pump, it is essential to ensure that it is rated for the maximum discharge pressure of the sump pump.
A hose rated too low will cause it to burst or leak due to excessive pressure, while a hose rated too high will be too expensive and offer no additional benefits. It is also essential to consider any possible increases in pressure, as these must be considered when selecting the appropriate hose.
Corrosion Resistance
If corrosive liquids are used with the sump pump, corrosion resistance must also be considered when selecting a discharge hose.
Materials such as stainless alloys or rubber may provide better protection against corrosion than lower-grade plastic materials, except for PVC, protecting them from any damage caused by corrosive liquids over time.
Also, anti-corrosive coatings may be applied if necessary, depending on the liquid used with the sump pump.
Compatibility
It is also essential to check that any selected hoses are suitable for use with the sump pump fittings and connections before purchase.
When an incompatible hose is installed improperly, it can leak and lead to hazardous situations like electrocution if electrical components become exposed.
Using fittings and adapters may allow for more flexibility with differing types of hoses but should still only be used if they are compatible with all parts of the system.
What is the minimum size of the discharge hose line from a sump pump?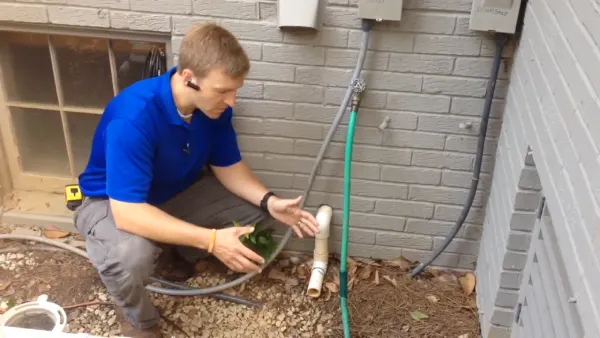 The discharge hose of a sump pump line size should generally meet or exceed 1.5 inches in diameter. A larger size (e.g., 2 inches) may be necessary if significant flow rates are expected or if longer runs are required.
Also, check with your local building code authority, as they may have further restrictions regarding pipe size and material used for your particular application.
Do sump pump discharge hoses have a PSI rating?
Sump pump discharge hoses are designed to deliver water from the sump pump to another safe location, away from the building. One of the most critical aspects of the sump pump hose is its pressure rating: how much pressure it can handle without bursting.
Generally, most sump pump discharge hoses have a maximum pressure rating of around 40 to 50 PSI (pounds per square inch). But, this can vary depending on the manufacturer and specific application.
For a water-powered sump pump to function correctly, municipal water must be supplied at a pressure greater than 40 PSI.
Does a sump pump discharge hose need a vent?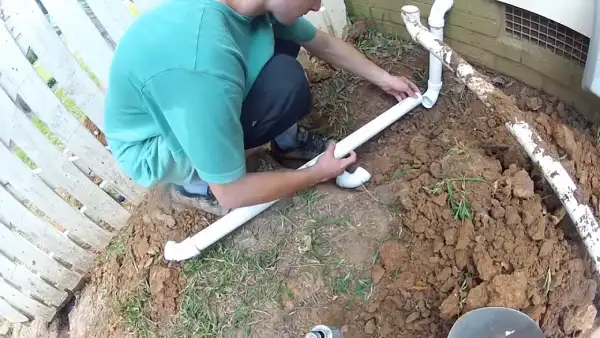 It is recommended that all permanently installed vertical pipes should include a vent hole near their top end to ensure proper air evacuation during the operation of the system.
This is especially true for longer runs or multiple bends in the pipe run, as these can create an air-bounding situation that could affect system efficiency and performance over time.
The vent hole allows excess air to escape from the pipe before the water flows through it, eliminating this potential problem.
Can a dehumidifier hose be used for sump pump discharge?
It is not recommended to use a dehumidifier hose for sump pump discharge due to several reasons.
Firstly, dehumidifier hoses are not designed or rated for pumping large volumes of water. On the other hand, discharge hoses are specifically designed to handle such quantities of water.
Moreover, sump pump discharge hoses are often required to meet specific building codes and regulations. These regulations may entail ensuring the hose is secured correctly and directed away from the building's foundation.
Failure to meet these requirements may damage the building or cause other hazards. Dehumidifier hoses may not meet these requirements, which could potentially cause problems. In contrast, dehumidifier hoses for sump pump discharge have different requirements.
Therefore, using a sump pump discharge hose specifically designed for this purpose is highly advisable. Such a hose will ensure proper and safe sump pump operation while complying with building codes and regulations.
How do you connect a discharge hose to a sump pump with a stainless steel hose clamp?
To connect a discharge hose to a sump pump with a stainless steel hose clamp or a galvanized steel clamp, follow these steps:
Measure the diameter of the discharge port on the sump pump and the diameter of the hose. Make sure you have the correct size hose clamp for your hose.
Slide the hose clamp over the end of the discharge hose.
Push the other end of the hose onto the discharge port of the sump pump.
Position the hose clamp over the connection between the hose and the discharge port.
Use a screwdriver to tighten the hose clamp by turning the screw clockwise. Make sure the clamp is tight enough to secure the connection but not too tight that it damages the hose or the sump pump.
Check the connection to ensure that there are no leaks.
Do you need to connect the sump pump discharge hose to the PVC pipe?
Connecting the sump pump discharge hose to a PVC pipe is not always necessary, but it can be a good idea in some situations.
The sump pump discharge hose can be directed away from the foundation of the building. But, connecting the hose to a PVC pipe may still be necessary to ensure proper drainage and prevent erosion or flooding in the surrounding area.
If the sump pump is discharging water into a drainage system or sewer, it may be required by local building codes to use a PVC pipe for the discharge hose. In this case, it is crucial to follow the guidelines provided by the local authorities to ensure that the installation is done safely and in compliance with the regulations.
Does the sump pump discharge hose freeze?
Sump pump discharge hoses have a tendency to freeze when temperatures drop below freezing. This occurrence can initiate a blockage within the hose, hampering the sump pump's ability to discharge water from the sump pit. The overflow can result in flooding.
To prevent freezing, it is necessary to ensure that the hose is located in requisite areas that do not experience freezing temperatures. And slope the hose properly to prevent water accumulation.
Insulate the hose or use a heated hose to avoid freezing. Regular maintenance of the sump pump and discharge system can prevent problems before they occur.
Get a Dependable Sump Pump Experience with a Quality Full Discharge Hose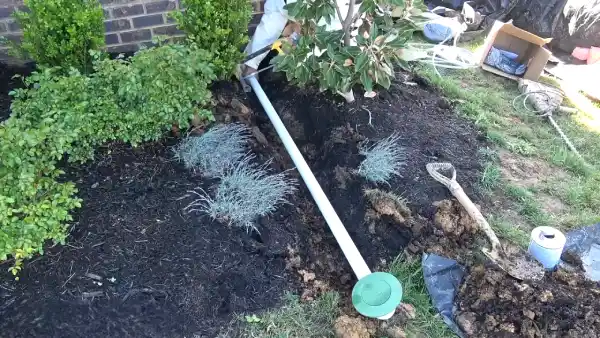 So many sump pump discharge hoses are available today that choosing the right one for your project can be daunting. Fortunately, we've extensively researched and analyzed the five top hoses to make it easier. You can select the best sump pump discharge hose using our helpful guide featuring features, pros & cons.
To ensure quality results are achieved from your end product, please consider all aspects such as diameter, length flexibility & compatibility before deciding. We hope these pointers will make it easy for you to choose.
We highly recommend the Little Giant 599303 SPDK discharge hose set for a sump pump. Guaranteed to provide a dependable experience, this item is made of robust and long-lasting materials. So don't delay any longer. Get yours today.