Last Updated on May 7, 2023
Over time, mineral deposits, calcium, or other substances can clog water valves. This can lead to difficulty turning the valve when this occurs. Applying too much pressure or using the wrong type of rust remover can damage the valve and result in its failure. That's where penetrating oil comes in.
This particular type of oil penetrates rust and other buildups, lubricating water valve parts and making them easier to turn. Also, the best penetrating oil for stuck water valves can help to prevent further corrosion by creating a barrier between the metal and water. This is why you need penetration oil for stuck water valves.
You can find penetrating oil at your local hardware store, but some oils are made with harsh chemicals that can damage the valve or cause other problems. Discover the top 5 penetrating oils and learn how to use them properly for the most effective results.
Best Penetrating Oil for Stuck Water Valve: 3 Professional Choice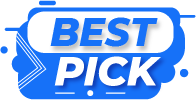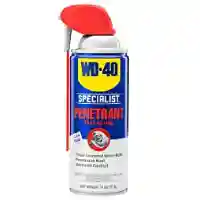 WD-40 Specialist Penetrant With Flexible Straw for Stuck Water Valve
● Package Information: Aerosol can
● Liquid Volume: 11 Fluid Ounces
● Flash Point: 40° Celsius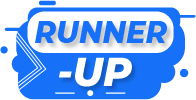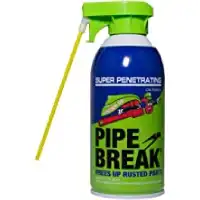 Pipe Break Penetrating Oil Spray for Valve
● Package Information: Aerosol can
● Liquid Volume: 9 Fluid Ounces
● Item Weight: 9 ounces
How to Identify a Stuck Water Valve?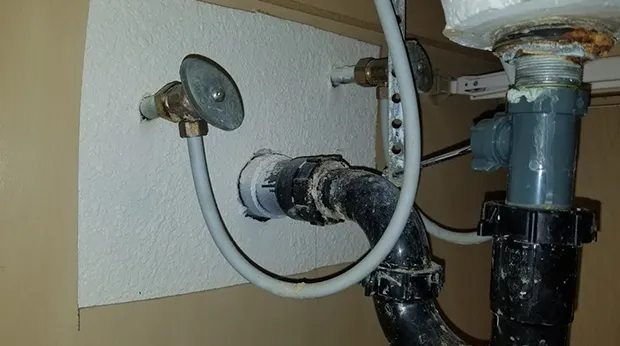 A stuck water valve can be identified by its lack of movement. No matter how much force you use, it's probably because the valve is jammed if you can't seem to budge the handle. If you try to force it to turn, you could damage the valve or may even break off entirely.
If you suspect a stuck water valve, you should take action immediately with the help of WD 40 or penetrating oil. Otherwise, you may experience a loss of water pressure or even a complete shut-off of your water supply. These penetrating oils can be applied to all stuck water valves, whether made from PVC or brass.
Can You Spray WD 40 Penetrating Oil on a Stuck Water Valve?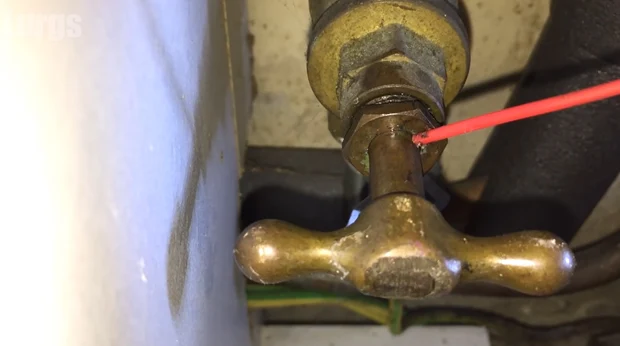 The penetrating oil WD 40 has been used for years as a lubricant and rust preventative. It will not harm any water valve or the surrounding area. It may help to loosen the stagnant water valve. So, there is no reason not to use WD 40 as a penetrating oil on a stuck water valve.
This WD-40 penetrates deep into rust and corrosion, helping to break the bond between the metal and the rust, which can help to free a stuck water valve. WD 40 also has a moisture-displacing agent that can help drive out any water causing the stuck water valve.
For stuck shut-off water valves, the following WD-40 penetrating oil is recommended:
➤ WD-40 Specialist Penetrant With Flexible Straw for Stuck Water Valve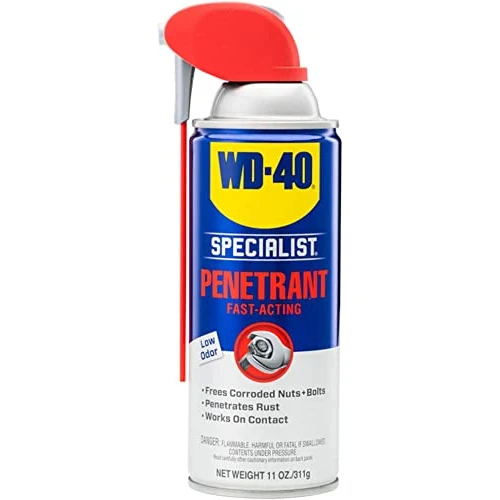 When loosening frozen or seized water valves, a WD-40 specialist penetrant with flexible straw can assist. Because of its low-odor formula, it penetrates deeply into cracks and gaps, breaking the bonds that bind the parts together. With its quick-acting formula, it protects metal from rusting and deterioration.
This powerful penetrating oil WD 40 is safe for rubber, plastic, and metal parts, making it an ideal choice for stubborn water shut-off valves. Its flexible straw nozzle lets you easily control the spray flow to reach hard-to-reach areas.
Benefits of this Product for You:
The WD-40 specialist penetrant oil can help you loosen any stuck water valve. Its fast-acting formula effectively frees stuck, frozen, and seized parts and equipment from rust.
This penetrating oil product is suitable for rusted nuts, bolts, threads, and locks since it is safe for metals, rubber, and plastics. And since it's 50-state VOC compliant, it's easy to use this product without harming the environment.
Pros:
VOC-compliant in 50 states
Faster at loosening stuck parts
Suitable for rubber, plastic, and metal
Two-way smart straw nozzle for more control
Provides a protective layer to prevent corrosion and rust
Con:
Too much spraying may cause the nozzle to fall off
---
Can You Dislodge Stuck Water Valves With Penetrating Oil?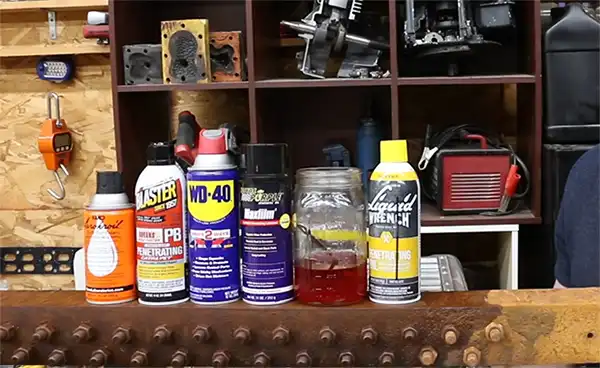 Penetrating oil is designed to seep through the corrosion inside the valve, which can help free it up. Of course, using the oil sparingly is important, as too much can cause more damage.
Also, you'll need to be patient because it may take several applications before the oil can work through the corrosion and loosen the valve. By applying penetrating oil to the water shut-off valve, you can help to loosen it so you can turn it more easily.
Recommended Top Lubricant for Water Valves
Several products on the market claim to be the appropriate penetration oil for stuck water fittings, but not all are created equal. Below are a few top penetrating oils that may interest those looking to repair stuck water valves.
➤ Pipe Break Penetrating Oil Spray for Valve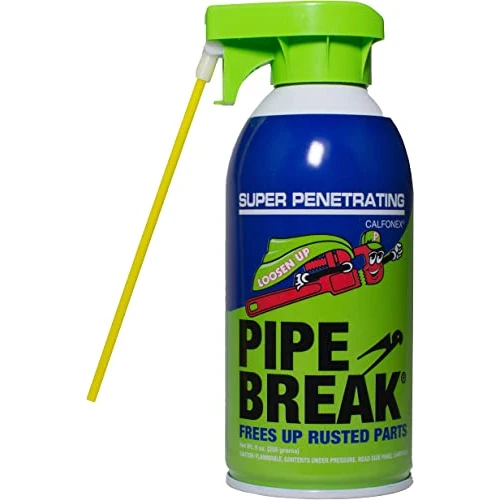 Pipe Break penetrating oil spray for valves repels rust, fungus, and condensation immediately and instantly penetrates under moisture to free frozen screws. This spray is more than just a penetration oil, it is a highly concentrated product that penetrates deeply.
A straw attached to this sprayer allows it to be used in pinpoint patterns or wide stream patterns. This low-odor product is ideal for oil field projects, as it quickly and effectively destroys rust's molecular structure to help you get your rusted bolts or pipe flanges free.
Benefits of this Product for You:
These Pipe Break spray penetrating oils are designed to break down the molecular bonds rust creates on metal fasteners, so it's easier to take them apart. Just spray the oil liberally on the stuck water shut-off valve and tap it to help speed up the penetration.
Also known as a penetrating oil, Pipe Break contains an anti-corrosion additive that prevents the occurrence of rust by creating an invisible bond. This unique formula makes it the ideal choice for any tough project, especially those involving rusted fasteners.
Pros:
Penetrates quickly and easily
Effective at loosening rusted parts
Breaking down the molecular strength
Formulated with an anti-corrosion additive
Con:
Sometimes leaves a greasy residue
---
➤ Kano KROIL Penetrating Oil for Stuck Water Valve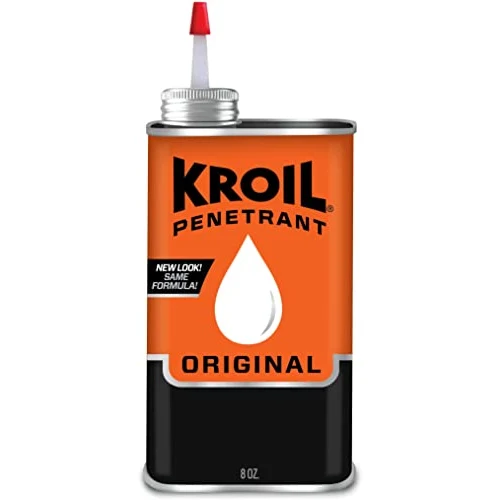 Kano KROIL penetrating oil for stuck water valves helps resolve stuck water valve problems. The oil's unique formula quickly breaks down rust and corrosion, allowing you to free the water valve without damaging it.
Kroil is also effective at removing carbon deposits and other gunk that can accumulate around valves over time.
Even the tightest spaces can be penetrated by Kroil, so it can help unstick stuck metal parts. Its flexible formula can be used on any corroded or stuck water valve, making it an essential tool for any home or a professional plumber.
Benefits of this Product for You:
The KROIL deep penetrating oil will penetrate into the tight spaces, breaking down the rust and corrosion and causing the water valve to stick.
It uses a formulation to penetrate metal connections quickly, loosening seized components by removing deterioration. This can make the toughest maintenance tasks easier and faster to execute.
Plus, the KROIL penetrates deeper than other products, ensuring long-lasting protection for your water valve. Whether carbon deposits, dried grease, or any other form of corrosion, this powerful rust reaper penetrating oil will work on those hard-to-reach places and gently dissolve them.
Pros:
Safe, non-toxic formula
Ideal for loosening stubborn bolts
Protects against corrosion in the future
Easily removes rust without damaging the metal
Con:
Do not use near open flames as it is combustible
---
➤ CRC Knock'er Loose Penetrating Solvent for Stuck Water Valve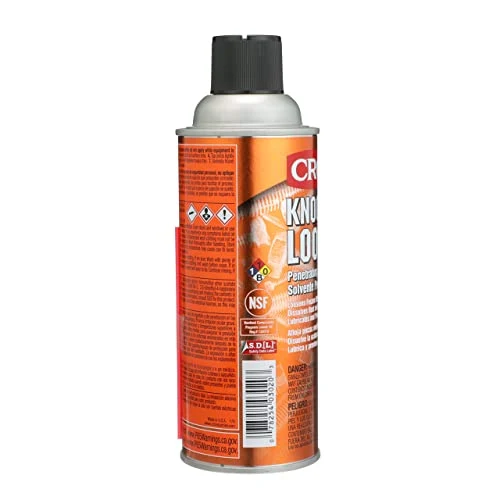 Having trouble with a stuck water valve? CRC Knock'er loose penetrating solvent may be just what you need. This industrial-grade penetrating solvent is NSF H2 registered for meat and poultry plants, making it ideal for various metal fittings.
This product dissolves dirt, rust, grease, gum, and deterioration quickly, removing any build-up that may prevent your water valve from functioning correctly. This formula complies with 50 states and makes it easier to disassemble the stuck water valve.
Benefits of this Product for You:
CRC Knock'er industrial-grade solvent effectively cleans up water valve dirt, grime, rust, and gum, making it easier to clean and prevent future build-up. It is also registered with NSF H2 for use in poultry and meat processing plant water valves, suitable for food-processing facilities maintenance.
Also known as the Knock'er Loose solvent, this powerful penetrating agent is ideal for loosening stuck or frozen water valves, couplings, and other components.
Whether performing routine maintenance on your industrial equipment or dealing with stubborn corrosion in your plumbing and fittings, CRC Knock'er penetrating oil solvent is an effective solution.
Pros:
Easily dissolve rust, grease, and gum
Safe and effective formula for industrial applications
Lubricates the surface to prevent corrosion and rust
Registered with NSF H2 for meat and poultry plants
Con:
Use with caution on sensitive surfaces
---
➤ MITREAPEL Penetrating Oil Spray Lubricator for Stuck Water Valve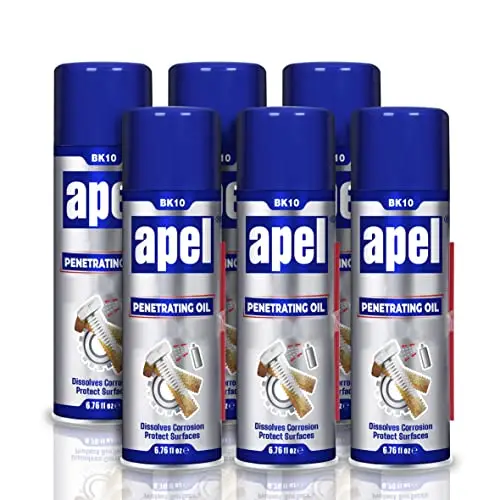 If you're dealing with a stuck water valve, MITREAPEL penetrating oil spray lubricator can help. The special formula quickly breaks through damaging corrosion and rust, making it easier to get the valve moving again.
The oil also helps to inhibit future corrosion processes, so you can rest assured that the valve will stay in good condition for longer.
As well as disassembling machinery and tools and removing stuck valves, bolts, screws, rusted nuts, and more, MITREAPEL penetrating spray lubricator is highly versatile. You can spray the oil directly onto the metal surfaces you want to loosen and wait a few minutes to work.
Benefits of this Product for You:
MITREAPEL penetrating oil lubricator oil will seep into the crevices and loosen the rust, making it much easier to turn the valve. Its anti-corrosion agents prevent future rust and corrosion, so you won't have to deal with stuck valves again.
This rust remover is a multi-purpose solution that can loosen stuck water valves and lubricate the parts. Whether you need to disassemble stuck water valve components or lubricate these, the MITREAPEL oil spray lubricant will get the job done quickly and effectively.
Pros:
Contains anti-corrosion agents
Multi-purpose & versatile product
Effectively breaks through iron oxide
Designed to loosen sticky, rusted parts deep in cracks
Con:
Not suitable for old and thin pipes
---
Comparison Table for Best Penetration Oils for Stuck Water Valves
| | | | |
| --- | --- | --- | --- |
| Product | Package Information | Liquid Volume | Flash Point |
| WD-40300004 | Aerosol can | 11 Fluid Ounces | 40° Celsius |
| Pipe BreakPB-9-1 | Aerosol can | 9 Fluid Ounces | – |
| KROIL24HP | Cap can | 8 Fluid Ounces | 55.5° Celsius |
| CRC03020 | Aerosol can | 16 Fluid Ounces | – |
| MitreapelBK10 | Aerosol can | 6 Pack * 7 Fluid Ounces | – |
How to Choose the Best Lubricant for Water Valves that are Stuck?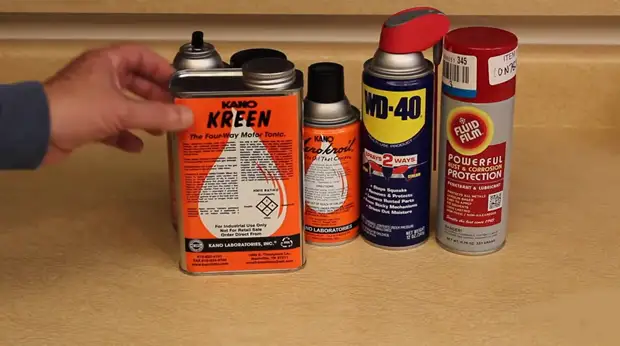 Choosing the proper lubricant for stuck water shut-off valves can be tricky. You want to make sure that the lubricant you choose is compatible with the material of the valve and can withstand the environment's demands.
A few issues to contemplate when choosing one:
Type of Valve Material
The type of valve material is one of the most significant factors when choosing a lubricant for stuck water valves.
A silicone-based lubricant will usually do the trick if the valve is made of brass, bronze, or plastic. But an oil-based lubricant (such as Liquid Wrench penetrating oil) may be necessary for valves of stainless steel or other metals.
Depending on the type of valve material, different lubricants may be required. If you want to lubricate stuck water shut-off valves, consider the valve material and choose a lubricant suitable for it.
Penetration Strength
Penetration strength is measured by its ability to penetrate into small crevices and breakthrough corrosion. A good lubricant will have a high penetration strength and be able to reach those hard-to-reach areas.
Also, it should be able to protect against future corrosion and wear. Something like WD-40 or penetrating oil for metal valves will do the trick. For plastic valves, you'll need to avoid using harsh or abrasive lubricants, which could damage the valve.
Oil Viscosity
As you choose a lubricant or rust remover for stuck water valves, you must consider the oil's viscosity. This property refers to the thickness of the oil, which can have a major impact on the lubricant's performance.
In general, thicker penetrating oils provide better protection against corrosion, but they can also be more difficult to apply. Thinner oils are easier to apply but may not provide as much protection. The best oil viscosity for your application will depend on the type of valves you have.
Anti-Corrosion Additive
The best way to loosen a stuck water valve corrosion problem is to use a lubricant with an anti-corrosion additive. It is an ultra-concentrated additive. When using this product correctly, corrosion can be eliminated even when high concentrations are required. This will help to protect the valves from rust and corrosion.
But there are a few things to consider when choosing a lubricant for water valves:
Be sure to select a lubricant that matches the valve's material.
Consider the temperature range of the lubricant.
Make sure that the lubricant is safe for use with drinking water.
Considering these terms, you can ensure that your water plumbing valves remain in good working order.
VOC Compliant
The VOC complaint was enacted to help prevent water pollution. Any lubricant that contains Volatile Organic Compounds, or VOCs, is subject to this regulation. To lubricate stuck valves, you must select one that does not contain any VOCs. Otherwise, you risk contaminating the water supply.
Several products on the market are specifically designed to be VOC-free. These products may cost slightly more than their non-compliant counterparts, but they are worth the investment to help protect the environment.
You should consider these factors when choosing the most appropriate lubricant for stuck water valves. Maintaining your valves in good working order and protecting them from corrosion is possible with the right product.
Why Should You Dislodge a Stuck Water Valve With Penetrating Oil?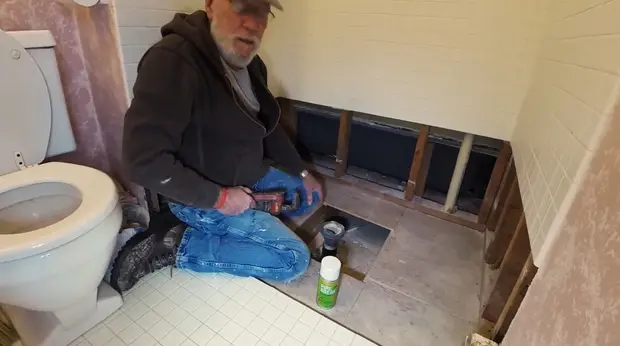 When a water valve becomes stuck, it can be extremely frustrating. Not only does it make it difficult to turn the valve on or off, but it can also cause leaks and damage to your plumbing. Penetrating oil helps to lubricate the stuck valve, making it easier to turn.
The oil penetrates the valve's threads, helping to loosen rust that may be binding the valve in place. When penetrating oil on a stuck shut-off water valve, you must use a small amount and be patient. This oil can take some time to work its way into the threads, and it may take several attempts to loosen the valve.
Also, this oil helps to prevent further rust, which can damage the valve. If you live in an area with hard water, the minerals in the water can also contribute to the problem.
Is Penetrating Oil Work Better Than WD-40 for Stuck Water Valves?
You may be able to free up a stuck water valve using penetrating oil or WD 40, but you need to decide which one to use. WD-40 is often recommended by some people, whereas others recommend premium penetrating oil. What is the best option, in this case, based on your needs?
It depends on the situation. If the valve is old and rusty, WD-40 may be a better option as it will help to break down the rust so you can turn the valve. Penetrating oil is better for dealing with stubborn valves that are slightly rusty but seem frozen.
Either way, you should always have both WD-40 and penetrating oil on hand to deal with any stuck valves that come your way. If used correctly, penetrating oil can be the most valuable option for loosening stuck valves and ensuring they continue to work normally because oil lubricates the valve and prevents further damage.
How to Release the Stuck Water Valve With Penetration Oil?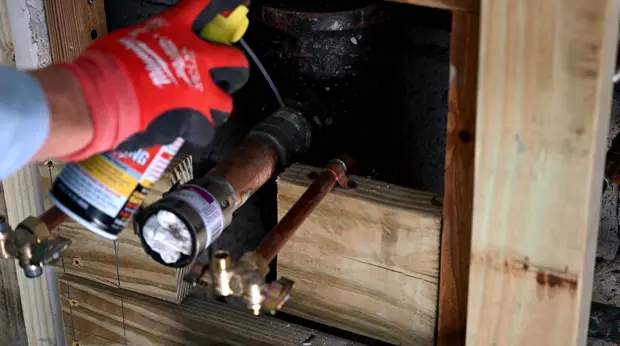 You can release a stuck water valve by applying penetrating oil and turning the handle with a wrench. Here's how to do it:
Step 01. Turn Off the Water Supply to the Valve
Before you begin, you will need to shut off the water flow to the valve. This will help prevent leaks or damage to the valve while working on it. Locate the main water shutoff valve. This is typically located near the water meter or where the main water line enters the house.
Once you've located the valve, turn it clockwise to close it. This will stop the flow of water into the house. Now you can begin working on the stuck water valve.
Step 02. Apply Penetrating Oil to the Valve
Apply a small amount of penetrating oil directly to the valve, being careful not to get any on your skin or clothes. To apply the oil, start by attaching the applicator to the end of the oil bottle. Now, insert the applicator into the valve opening and squeeze the trigger to release the oil.
The oil will flow through the applicator and into the valve. Allow the oil to sit for several minutes before turning the valve. This will help to loosen it up and make it easier to turn.
Step 03. Turn the Valve with a Wrench
Once the oil has had time to soak into the valve, you should be able to easily turn it using a wrench or other tool that can hold onto the handle. Gently grasp the handle of the water valve and start turning clockwise. Continue turning the valve until you feel it move freely and begin to turn more easily.
If the valve does not rotate, you may need to repeat the process and apply more penetrating oil. Once the valve is fully turned, you can open the main water supply line again by turning it counterclockwise. This will restore water flow to your home and eliminate the problem with your stuck water valve.
Step 04. Get Rid of Any Excess Oil
You must wipe any excess penetrating oil that may have leaked or spilled onto the valve. If you don't do this, it could cause further damage to your pipes or the surrounding area. Use a clean rag or paper towel to wipe up any oil and flush away any remaining traces with water.
With these steps, you should be able to release a stuck water valve with ease. Be careful not to use too much pressure when turning the valve, as this could cause it to break or crack.
How Long Should You Let Penetrating Oil Soak on a Stuck Water Valve?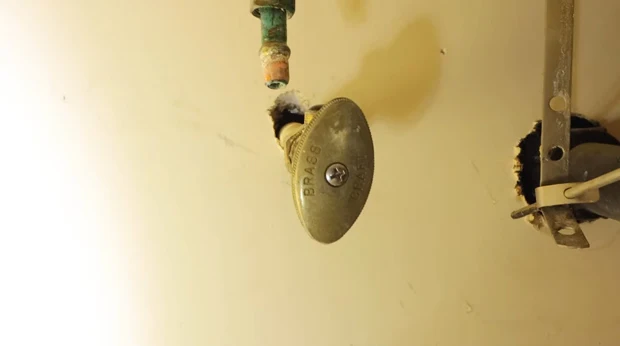 When you're trying to loosen any stuck valve with penetrating oil, you may be tempted to keep it soaking for hours, but is this too long? The general rule of thumb is to let the oil soak for at least fifteen minutes but no longer than one hour.
After this time, you should be able to turn the valve more easily. If the valve is still stuck, you may need to use a stronger penetrant or seek professional assistance. Putting penetrating oil on repeatedly and letting it soak for a long time could do more harm than good.
Is it Worth Applying the Best Penetrating Oil to a Stuck Water Valve?
When working with a seized water valve, the most common approach you can have in your mind is to simply use brute force, either by twisting the handle or using a wrench. But applying too much pressure can break the valve and cause it to become even more stuck.
So using the best penetrating oil for stuck water valves will loosen them up. As mentioned above, you may use WD-40 specialist penetrant spray or other penetrating oil. These oils contain a penetrating lubricant and solvent that helps to dissolve minerals, calcium, and other materials.
Sale